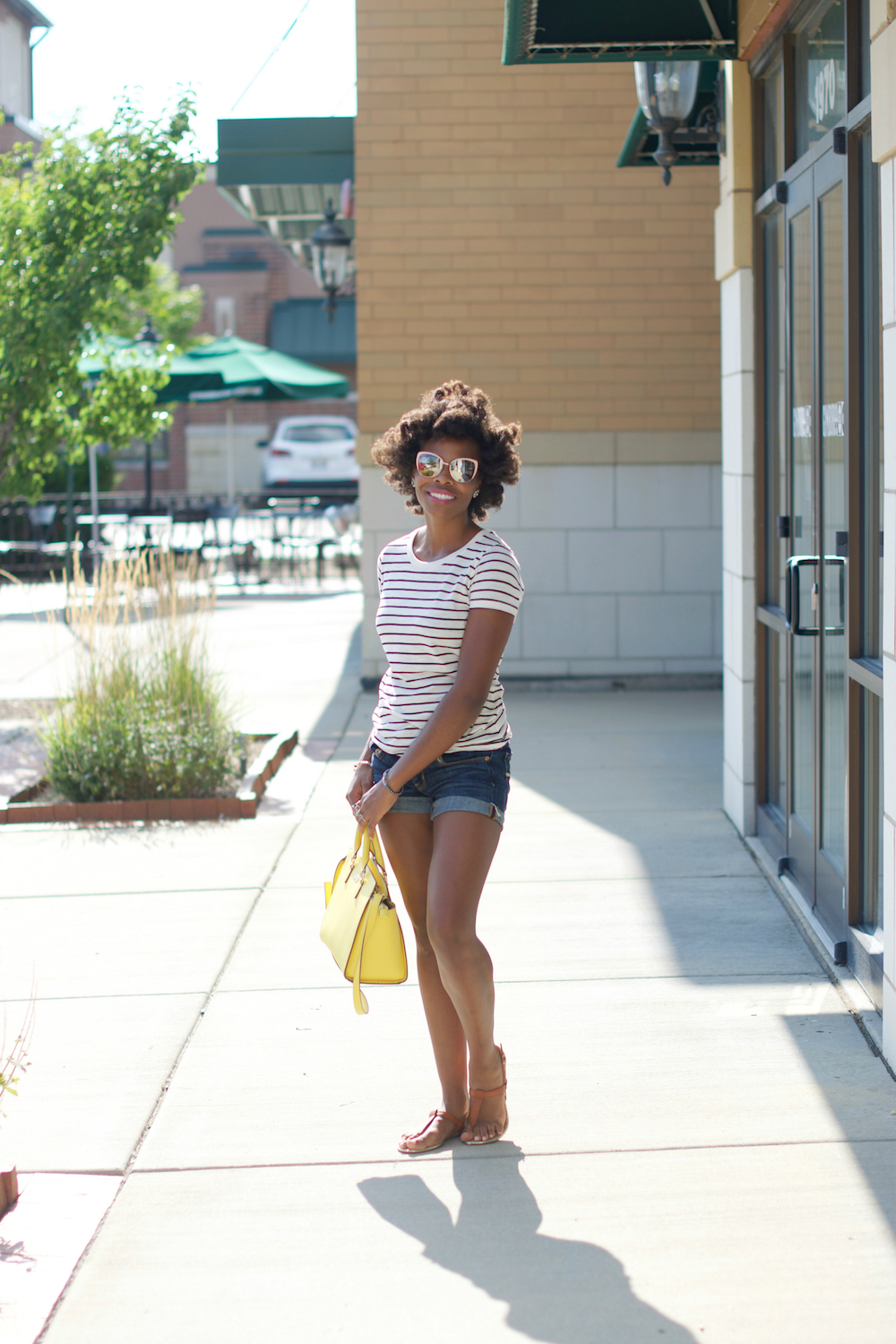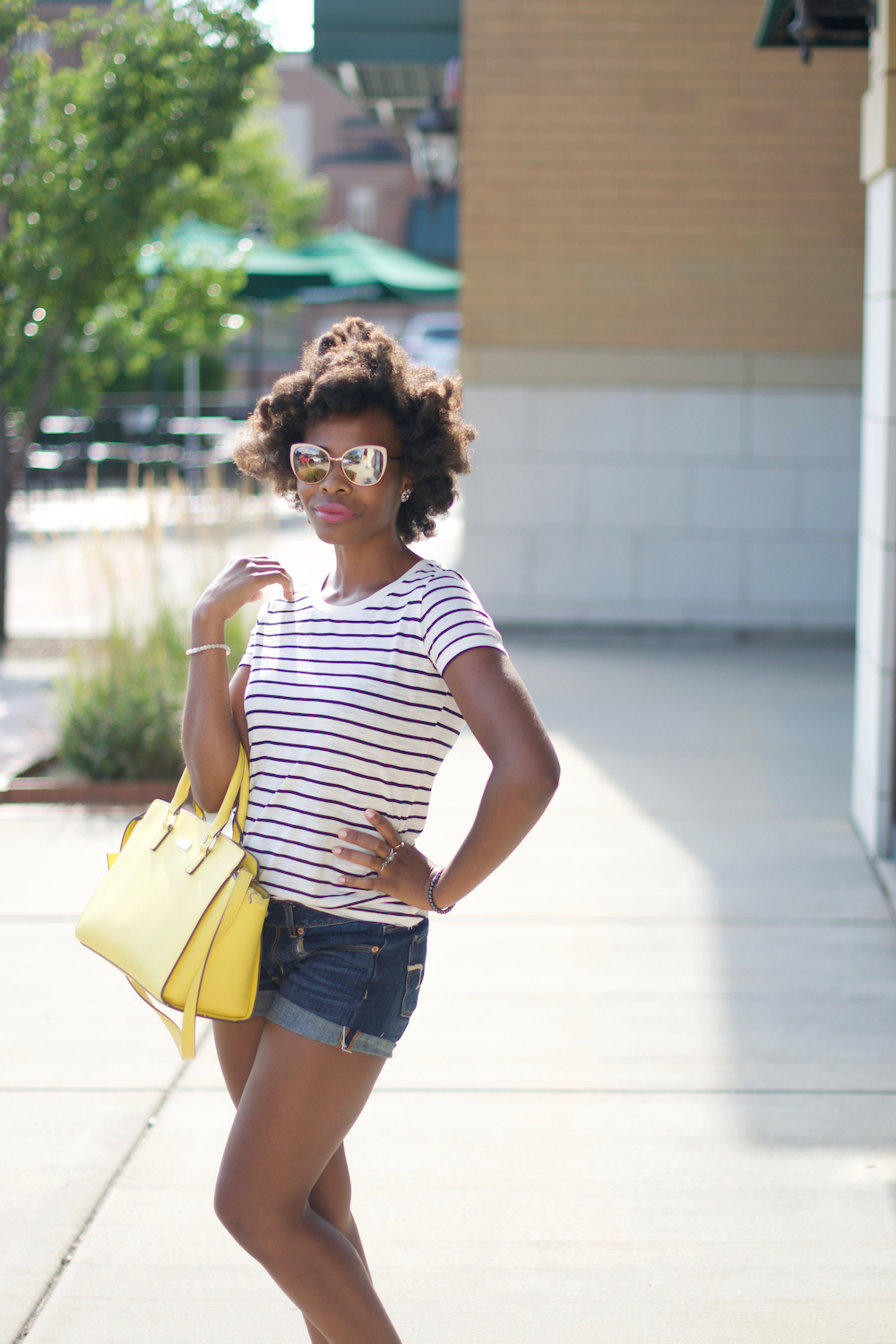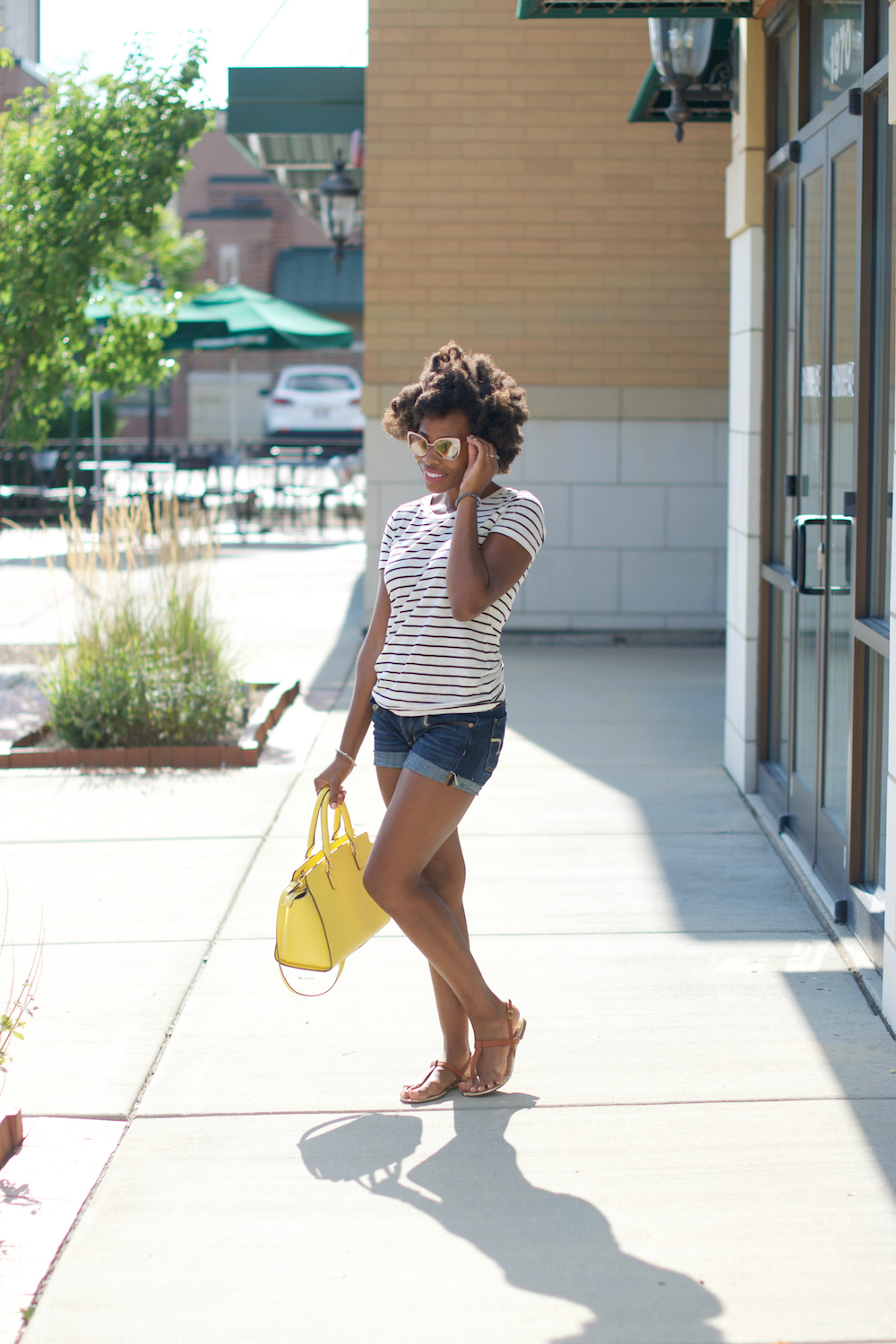 {David, of course, took these photos! He's really good at snapping outfit pictures for me. I am so grateful!}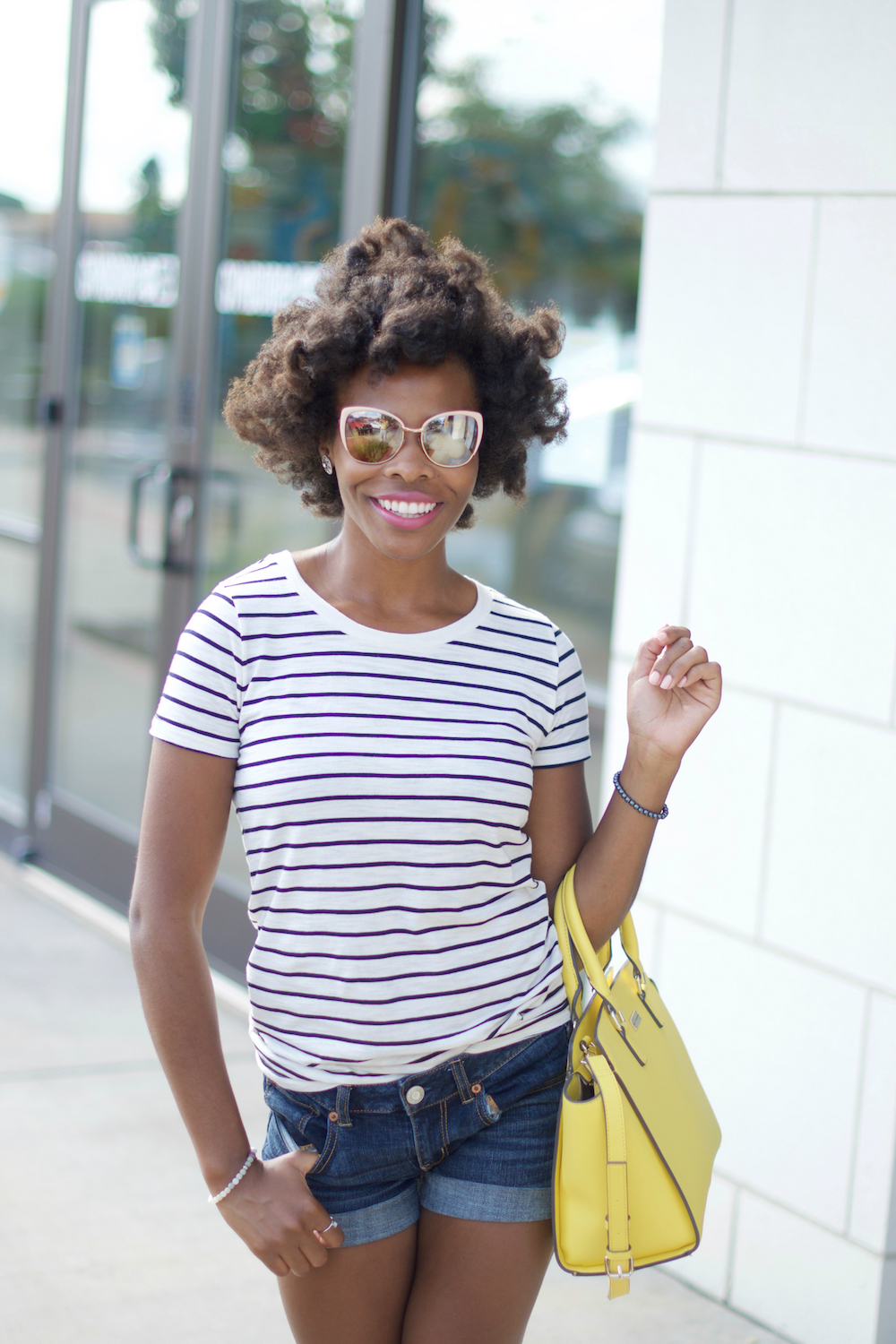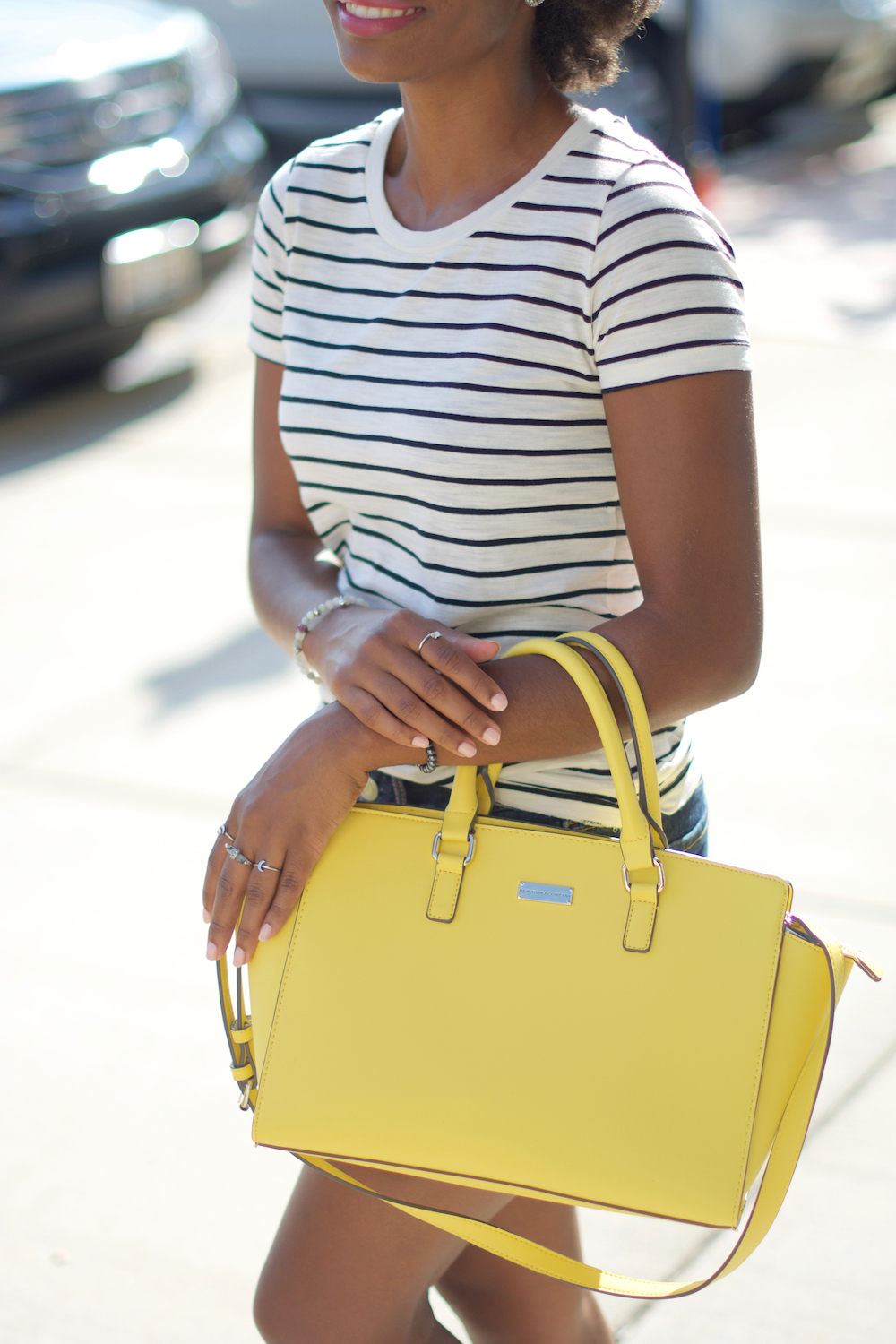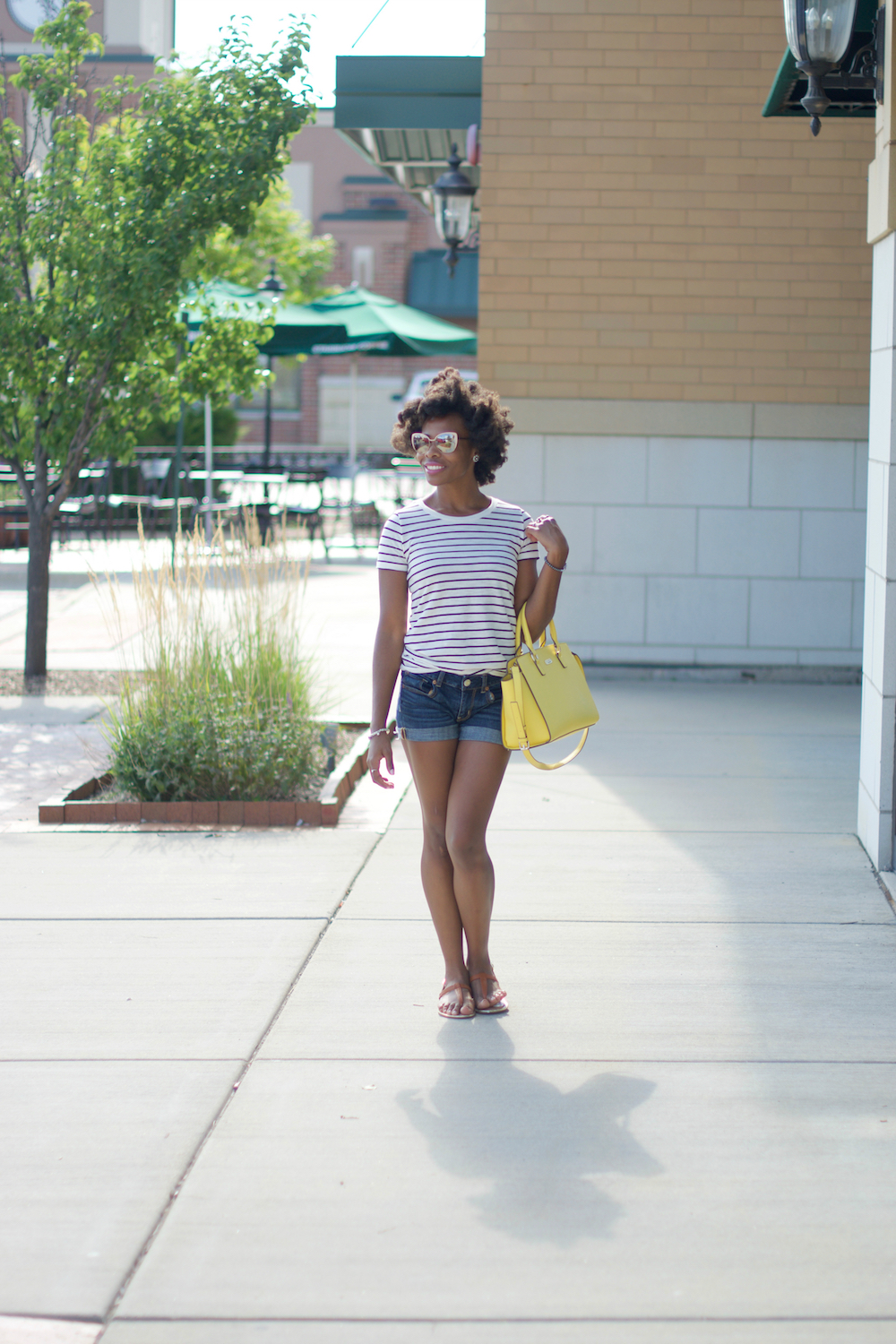 Tee
Denim Shorts
Winged Tote Bag
Sandals
Sunglasses (under $30!)
Earrings (only $8!)
Lipstick: Revlon – Sassy Mauve
Nail Polish: OPI – Bubble Bath
Happy first day of August! How was your weekend? Did you do anything interesting or exciting with the last days of July?
The Look
Any kind of tee or tank and a pair of denim shorts is truly my summer uniform. I love coordinating a neutral look with a bright pop of color. The pop of yellow from my lovely handbag gives this look the perfect element of sunshine on a sunny, summer day!
The Latest
On Friday night, I had a "me-party" and ordered a delicious Southern chicken sandwich as carryout from one of my favorite local restaurants, Barrel + Rye, and chilled in bed watching a recording of the Democratic National Convention. I watched Hillary's speech… and if she didn't have a reputation for being a liar, she would just about have me convinced that #imwithher. I'm still doing research on her credibility… but man oh man, I kind of wish Michelle Obama was running for pres!
On Saturday afternoon, David and I watched a recording of Trump's speech at the Republican National Convention. He spent about 80% of his speech sharing stats, another 10% talking about ideas (but mostly no real solutions to back those ideas), 5% tossing out one typical politician solution to fund his ideas (cleaning out wasteful policies… real original!) and another 5% cheering on himself, talking about how he will fix America himself (cause, you know, no one else will lend a hand, right?) and chanting "USA" with a crowd of mindless drones. A few of his ideas are good ones, but when you have someone who sends jobs overseas trying to talk about his extreme nationalism and how his patriotic policies will bring jobs back home to America, it's hard not to see him as anything but a crooked politician in the making.
The Life
David and I had a dinner date at this delicious, and classy Italian pizzeria called NEO. If you follow me on Snapchat (add me: PrettyPerfect89), you'll have seen we indulged in bruschetta, burrata (oh my gosh! NEO has the best fresh mozzarella blend over a bed of arugala!!), bianco pizza and martinis & mojitos. It was really nice spending most of Saturday together and ending up at one of our favorite local restaurants. David and I had some really great table conversation and I'm loving all the opportunities that we have that bring us closer and closer… it's amazing getting to know more and more about someone you care about!
During this month of August, I'm going to be getting Alena prepped for 5th grade (she has all of her school supplies, woo hoo!), doing some shopping for fall, hopefully sharing a home decor piece or two with all of you, and of course spending lots of time with my loved ones… I've got some interesting opportunities in the works this week, so send some good vibes and hopeful thinking my way.
Tell me about your weekend! What will you be up to this August?
With Style & Love,
♥
Amber