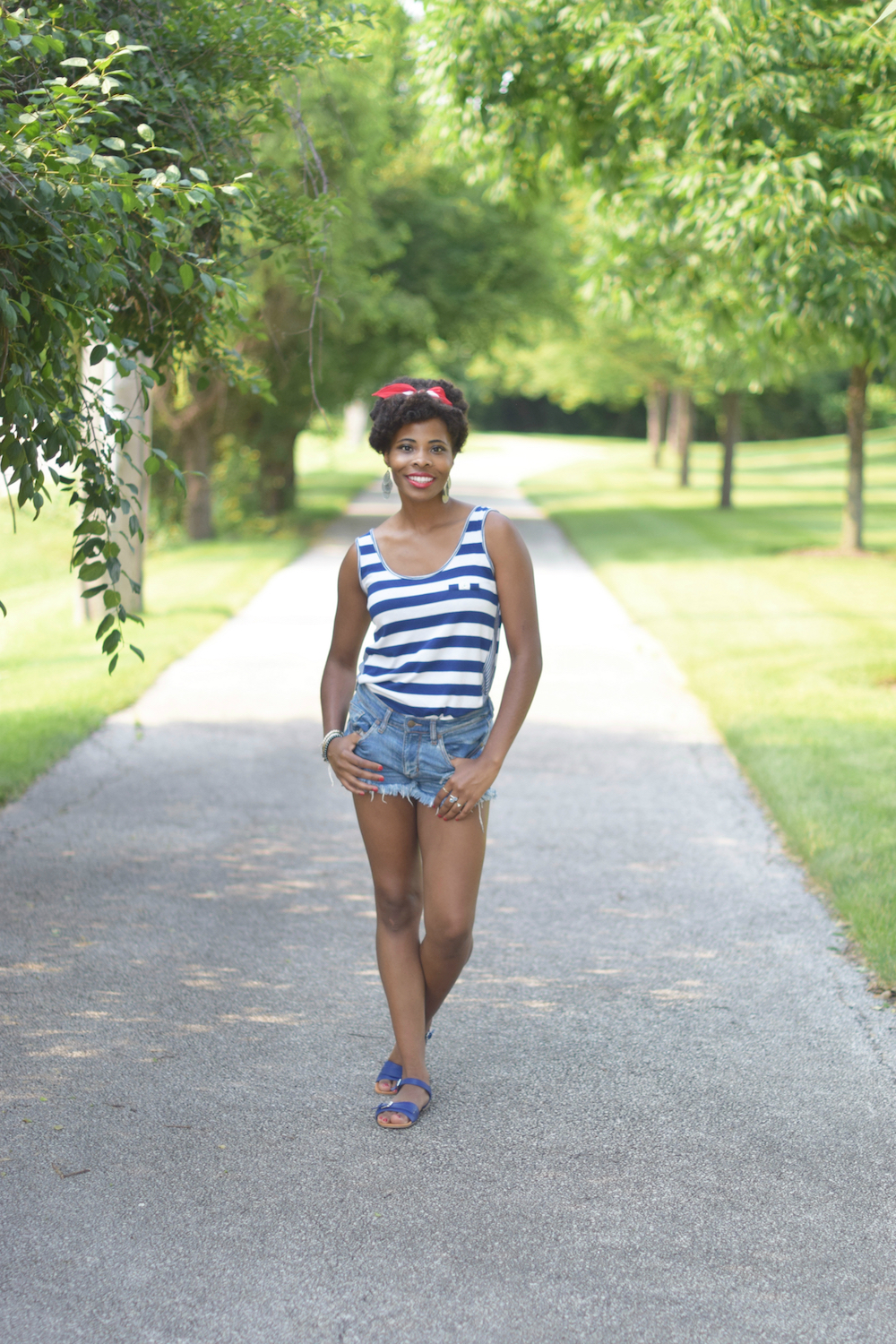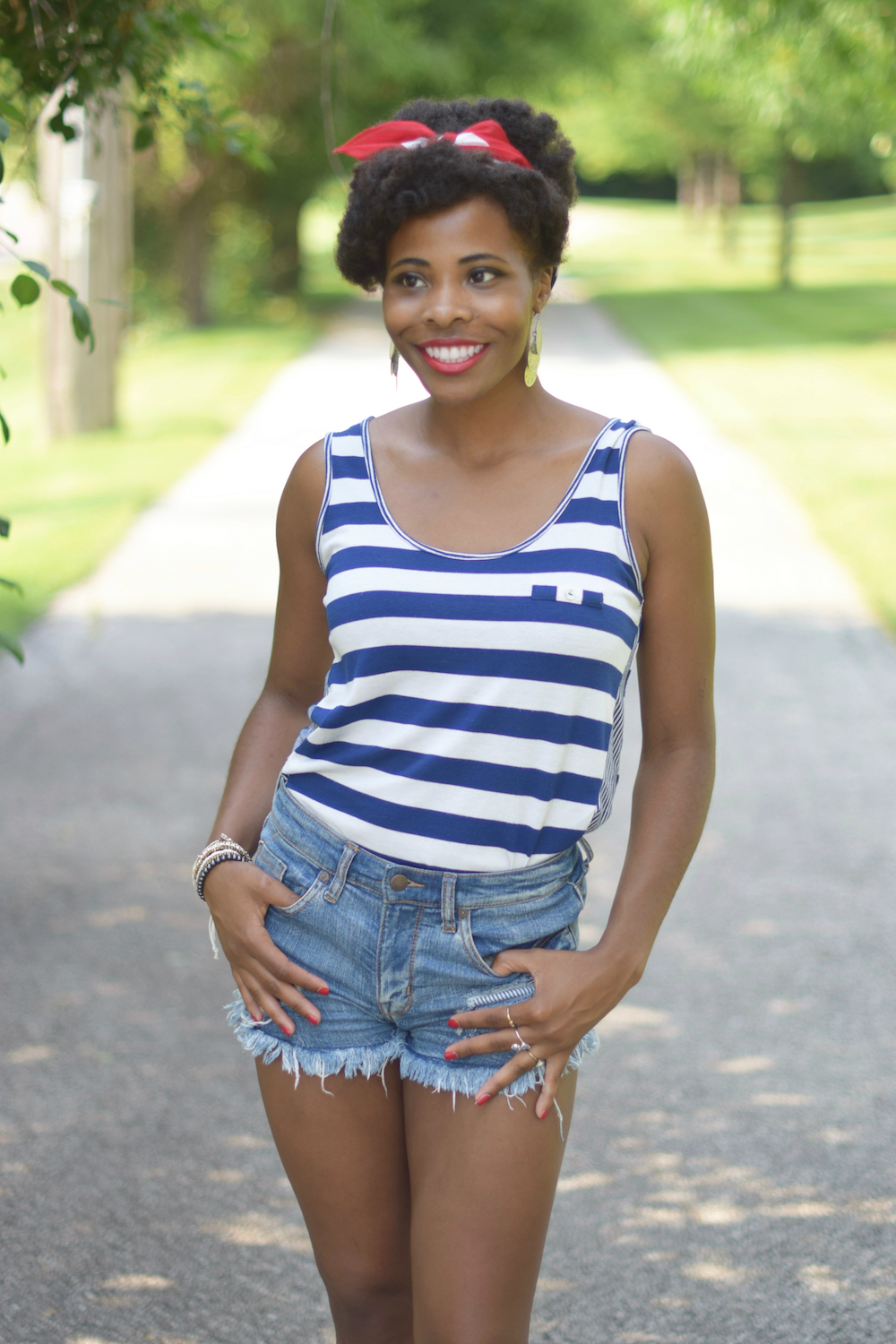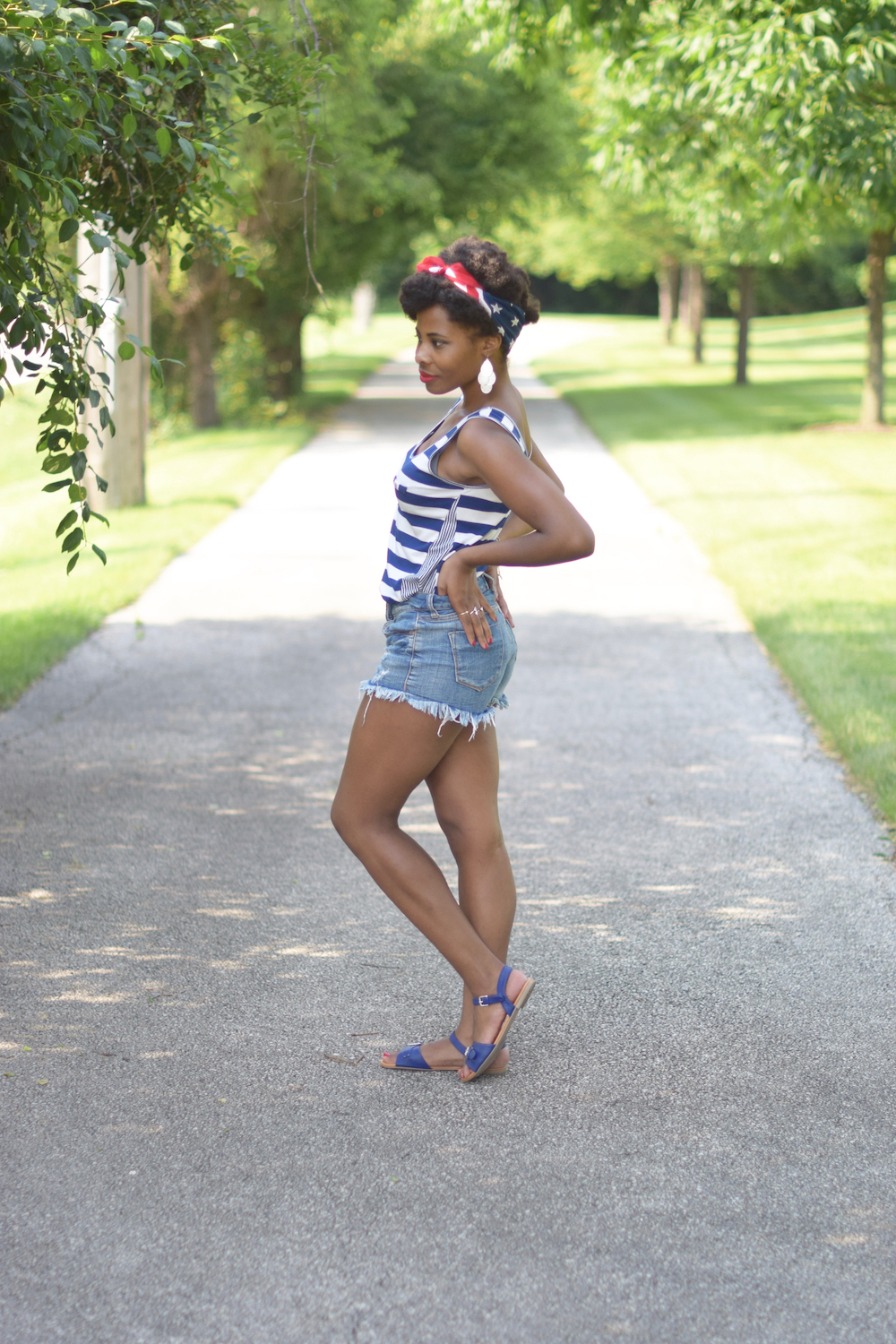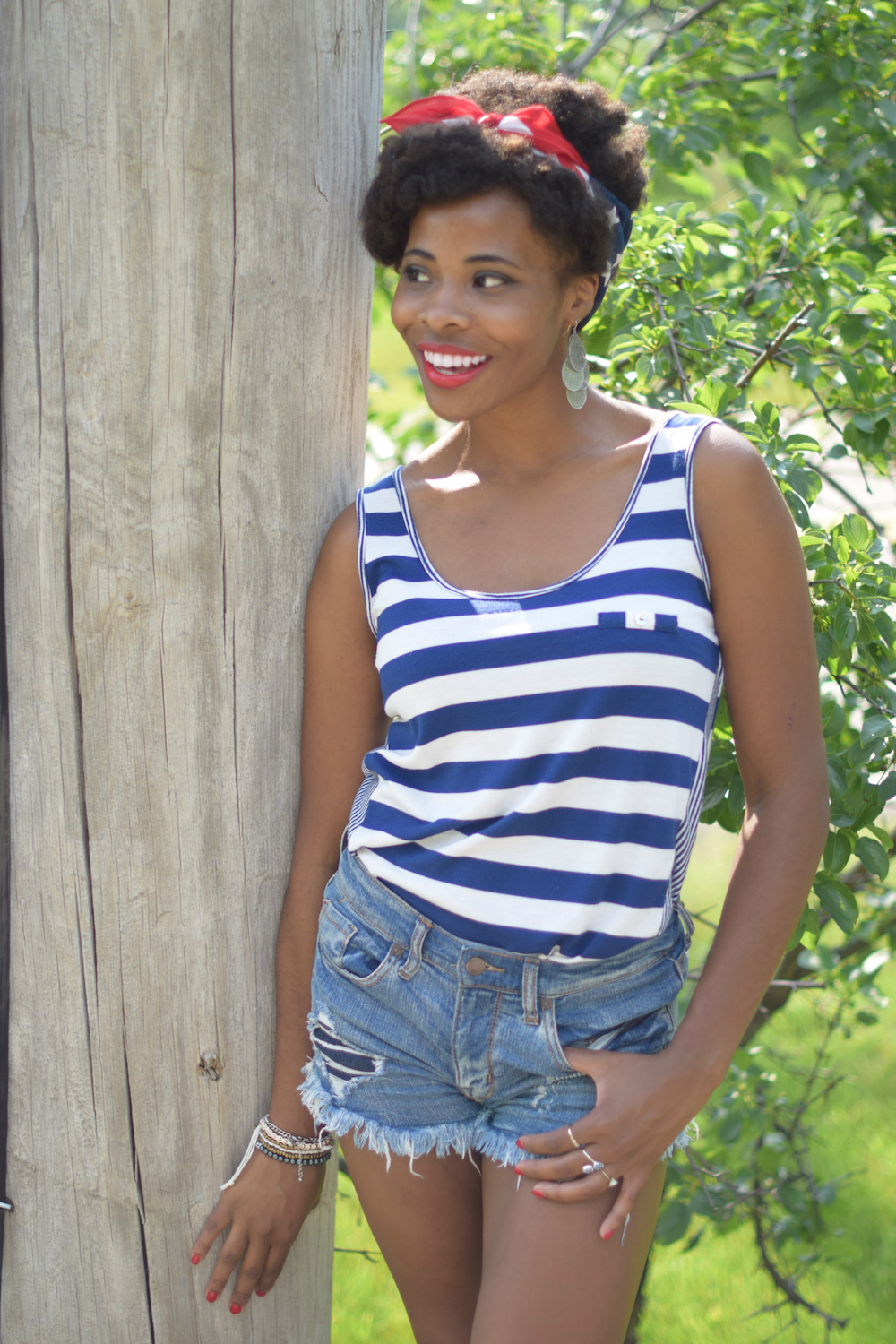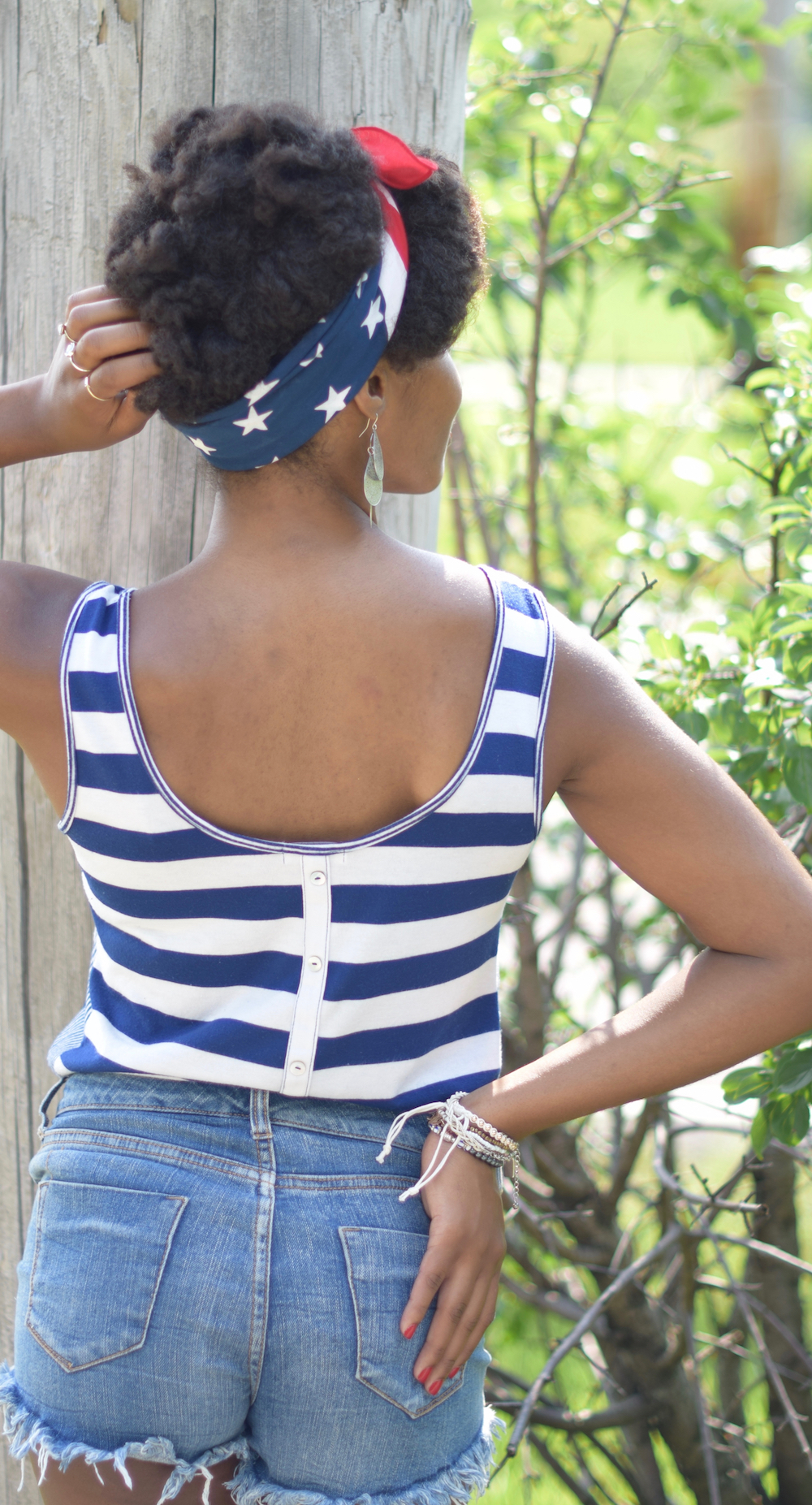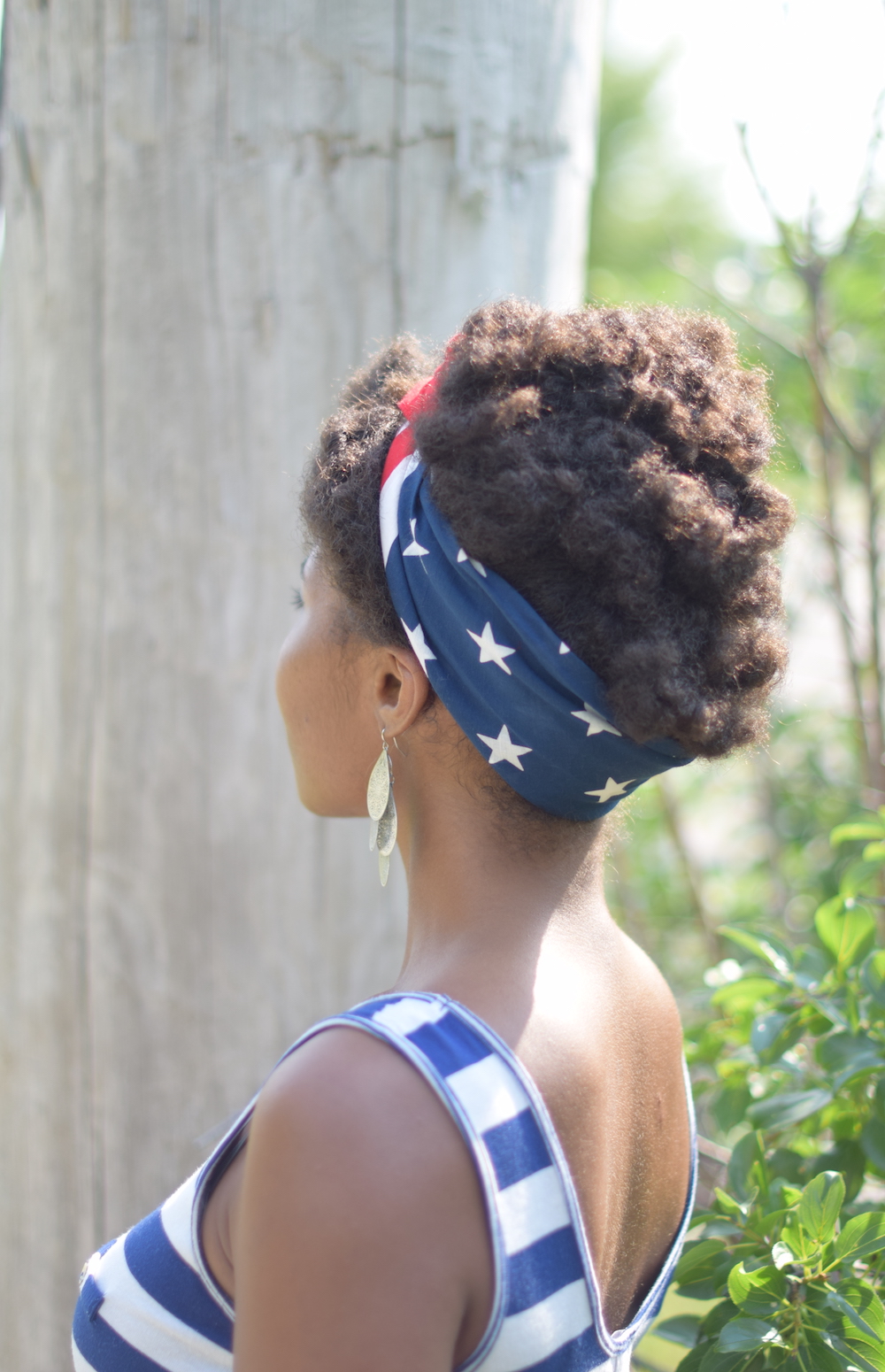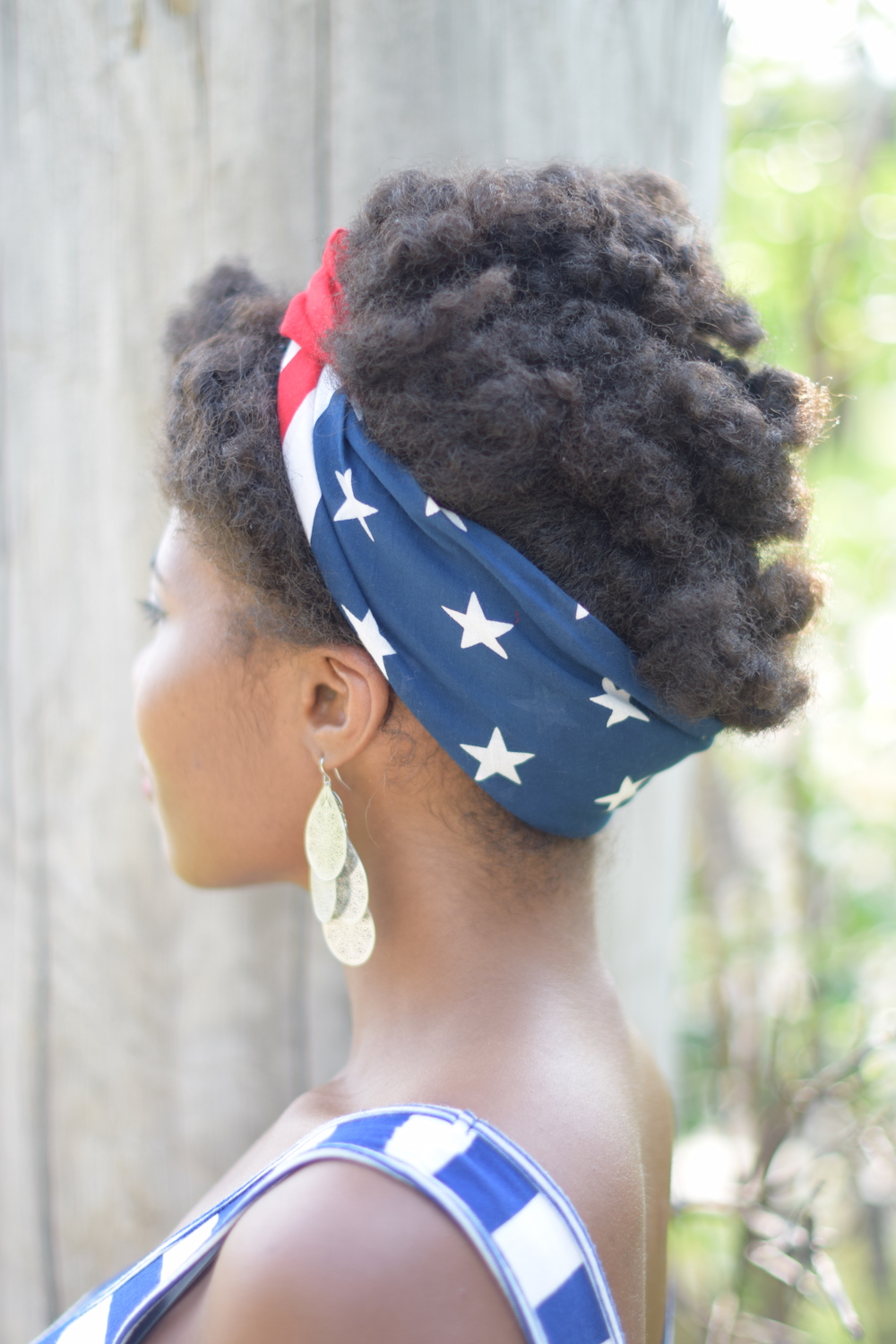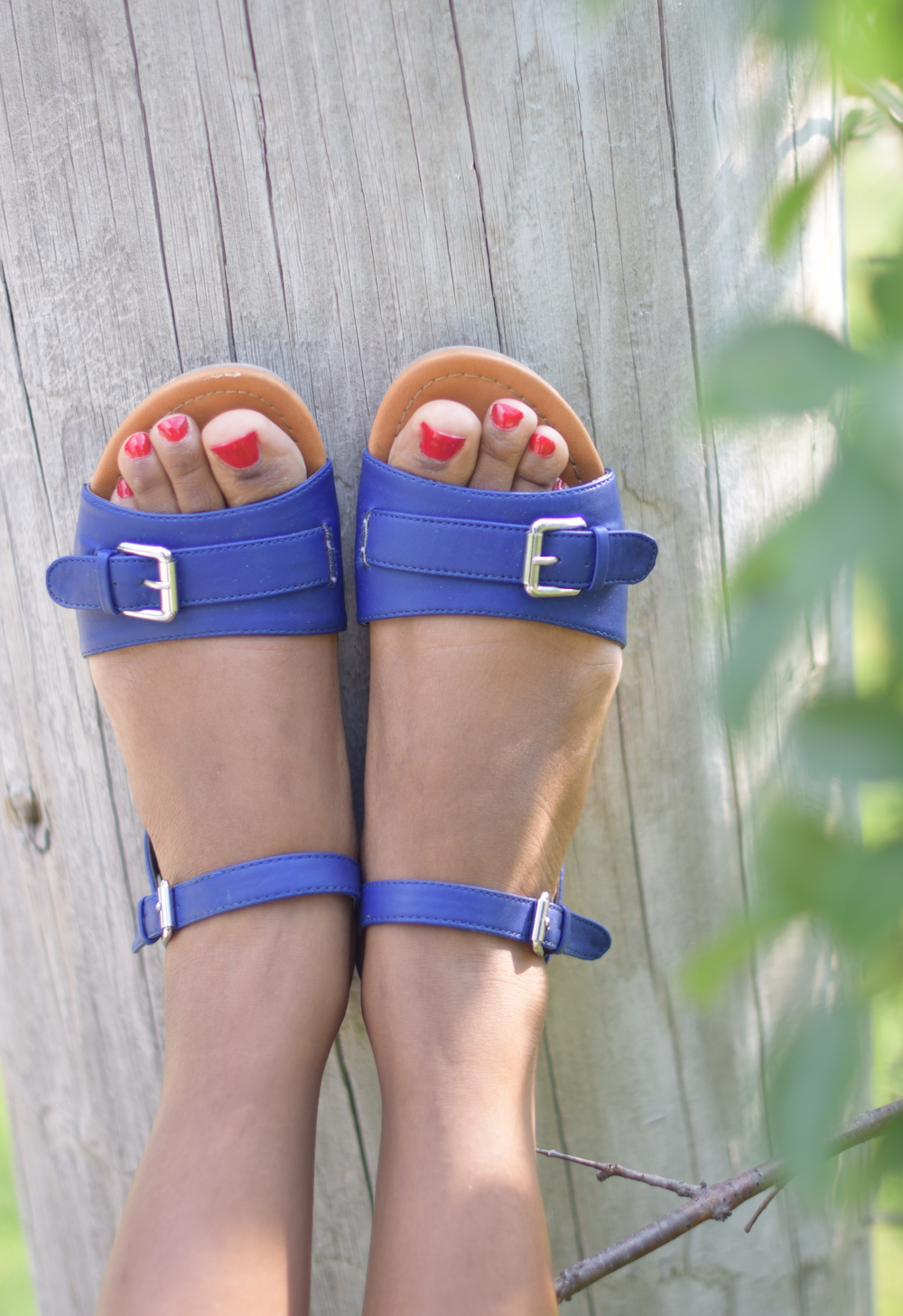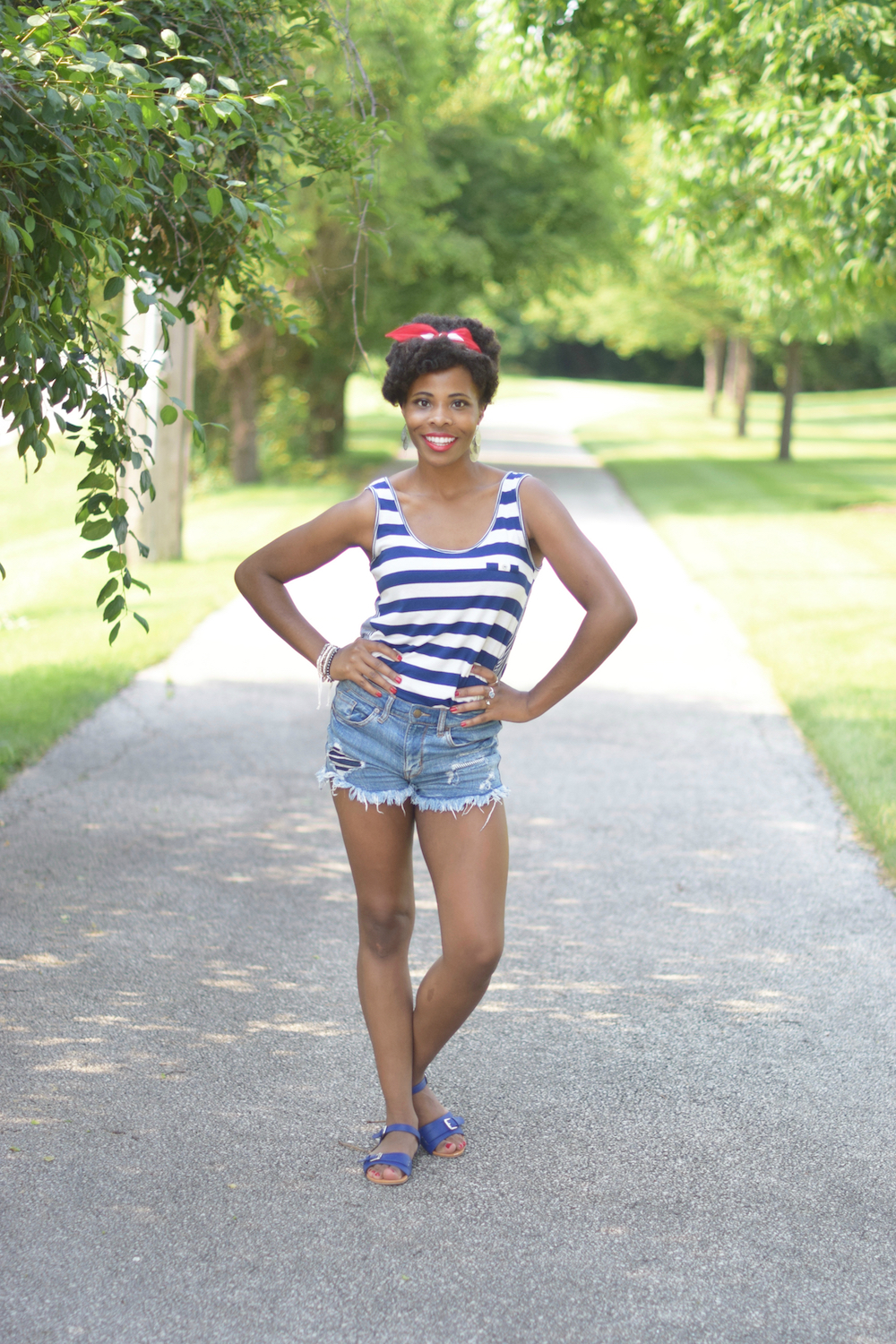 Tank (old, similar – $38 // similar – only $9)
Shorts
Patriotic Bandana (under $6!)
Sandals (on sale!)
Nail Polish: OPI – The Thrill of Brazil
Lipstick: Revlon – Love that Red
Happy Monday, lovelies! How was your weekend? Anyone do any shopping to get ready for the Fourth of July?
Clearly, I'm ready. I bought this bandana from Target a couple of weeks ago. I bought two… one for me, and one for my Alena love bug! We'll be twinning for the fourth! I'll probably style her hair into a ponytail and use the bandana around the ponytail base. My hair? In love! I'm so rocking this updo again!
I'm pretty low-key and clueless in the hair and makeup realms. So for these photos, my sister styled my hair. (I couldn't figure out how to make the bandana look like a cute headband.) My hair is pretty much the same length all around, so for this look, I left some of the front of my hair out. Then my sister went hairpin crazy and loosely pinned my curls as the centerpiece for the bandana. For the front, we loosely pinned my hair into side swooping bangs. (I'm probably describing the hairstyling process all kinds of wrong, but hey! I'm not in the know on this stuff… do you see my daily 'fro!?) My sister placed the folded bandana around my head and tied it so I had two cute ends hanging out to create vibes of a bow.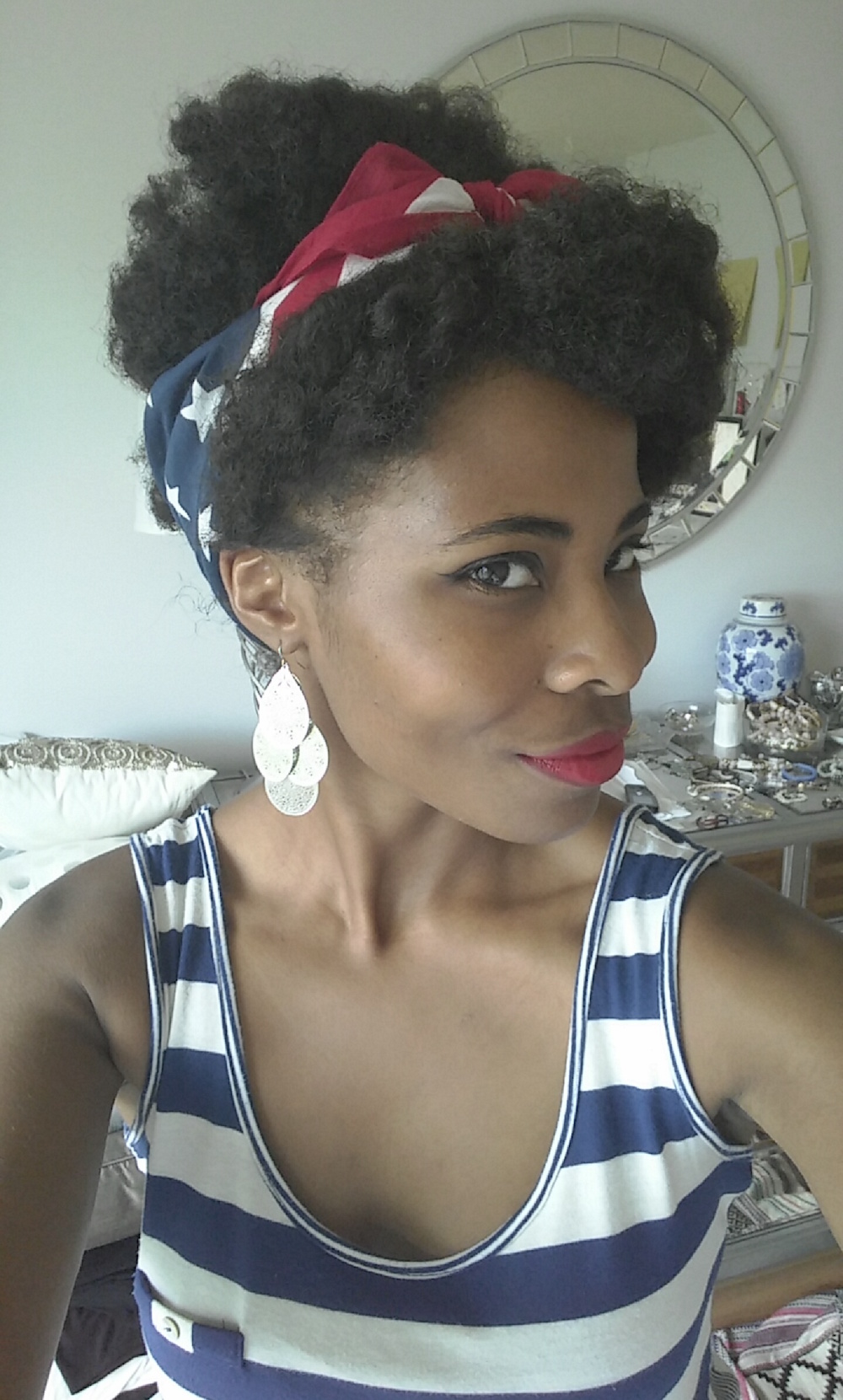 This photo is a selfie from my Snapchat… so for those of you who follow me, you knew this look was coming to All the Cute! Be sure to follow me on Snapchat:  PrettyPerfect89 (Oh, and please disregard the random stack of throw pillows and my jewelry covered dresser in the background. Almost done decorating my room. Bedroom reveal to come!)
Alright… enough hair talk. Let's talk about my tank… I bought it from Charming Charlie 2 years ago, and it's one of my favorite tops ever! I like it so much that I constantly wish I bought 2. And I've had many sleepless nights wondering if it came in other colors… Kidding! But I do like it a lot. I love the wider, horizontal and bold stripes on the front and back, and the narrow stripes running vertically on the sides. I adore the scooped back with the cute little buttons going down. I may or may not have rocked it on the fourth in both 2014 and 2015. I may be wearing it again for the fourth this year…
Well, I rambled on and on about my hair and my tank… so I'll let this rest for now! I'll share another 4th of July style post this week. Be sure to look for that, woo!
With Style & Love,
♥
Amber
Find & follow me on Instagram & Pinterest!