Hi Monday…
How was your weekend? Mine was busy… Alena's birthday was Saturday (princess party photos to come!) and mine was Sunday. I've been wanting to talk about my favorite makeup products… so here goes:
While I'm a total girly-girl, I really do not wear makeup…
I like wearing eye liner and eye shadow (and sometimes lipstick) for a night out, but that's about it.
When I was in 8th and 9th grade I wore powdered foundation/cover-up and my boyfriend, at the time, asked me why I wore makeup?
I remember that moment I realized: I don't even know. So I stopped. And I love it!
On the daily, my facial skincare routine consists of a face wash with a moisturizing cleanser, covered with SPF 15 face lotion and a little almond oil, and a swipe of lip balm across my puckers. That's all. No concealers, blush, or mascara. Even though my skincare routine is simple and the bare minimum, I still have my favorite goodies for when I do feel "fancy." Here's a peak inside…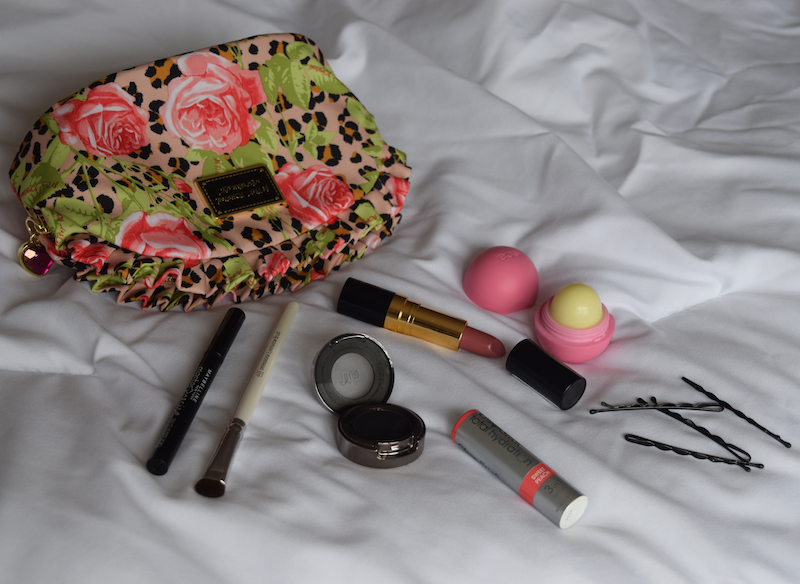 Bag (similar)  /  Eyeliner  /  Eyeshadow  /  Eyeshadow Brush  /  Chapstick  /  Lip Balm  /  Lipstick  /  Bobby Pins: here & here
Out of everything in my makeup bag, the Chapstick is the item I can't do without. I always have a moisturizer across my lips.
While I do love the sexy glam look I achieve with the eyeshadow and eyeliner, I'm happy with a clean face, too!
What are some essential makeup items in your makeup bag?
Xo,
Amber