Because it's Friday!!!…
This was one of my more popular posts on my hair blog, Her & Hair, because
I am wanting to settle down and focus on my personal blog, All the Cute, thus
I have decided to share this post…here's the text from the original:
Originally published on Her & Hair July 09, 2014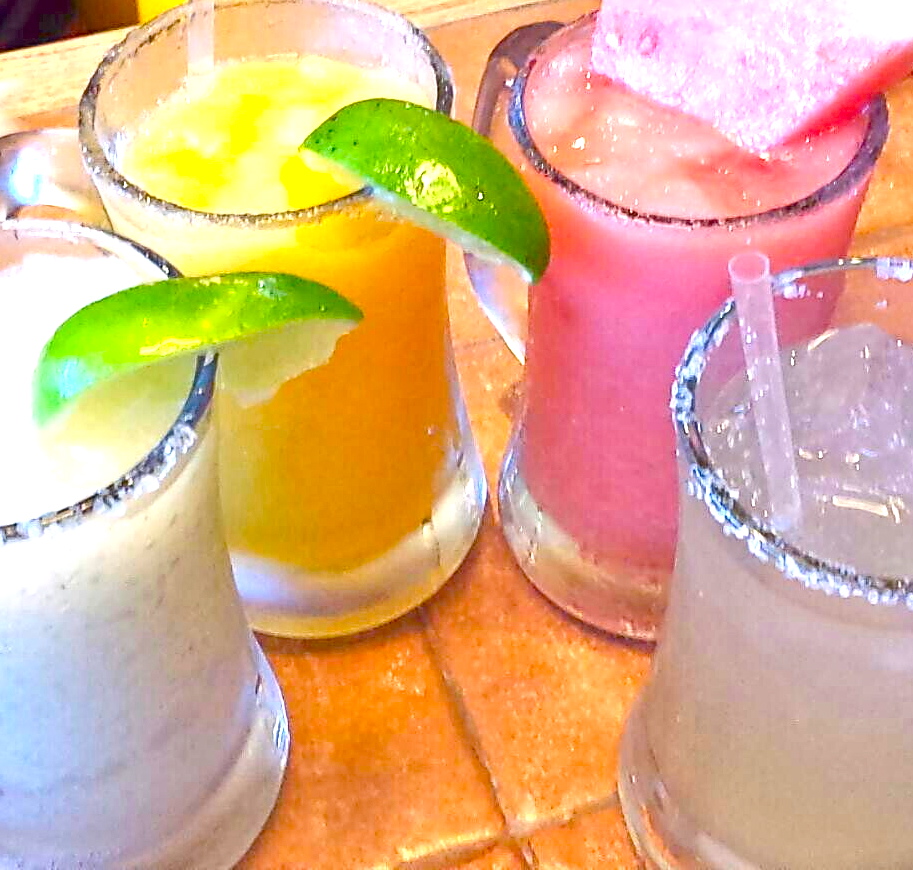 When you go out with your girlies, or on a date, and if you are at all like me- a lover of mixed drinks- you will likely be able to identify with my "struggle." I love sweet and fruity martinis and cocktails, but sometimes, I am in places where the drink menu is a real yawn (over the weekend, I had a dinner date, and we went to a nice country bar afterwards- but all of their specialty drinks had moonshine or whiskey in them, yuck!); or, it's just a hometown pub, and the bar is more focused on it's beer selection than coming up with a mixed drink menu. When that happens, I often find myself unsure about what to order so I choose a boring go to such as a Malibu & Pineapple or a Dissaronno & Orange Juice.
As part of my Pinterest addiction, I have a Recipe Board where I pin tons of yummy creations, including drinks I've tried, and would like to try. So, here's a post to share my pins for girly drink recipes. Next time I'm in a bar, or planning a Girl's Night In, I may just pull up this post myself to help me decide what to order/make. Here's a list of mixed drinks that sound delicious:
(Click on the links for the deets and full recipes!)
::::: Be sure to read and scroll to the bottom for girly drinks to order in a pinch! ::::::
MARGARITAS:
Fresh Pineapple Margarita
Fresh Pineapple Chunks
Lime Juice
Tequila
Orange Liqueur
Simple Syrup or Honey
Optional: Salt & Lime Garnish
Pink Grapefruit Margarita
Ruby Red Grapefruit Juice
Lime Juice
Orange Liqueur
Tequila
Ice
Optional: Salt & Lime Garnish
Pomegranate Margarita
Tequila
PAMA Liqueur
Grand Marnier
Sweet & Sour Mix
Orange Juice
Skinny: Salty Chiuhuahua
Tequila
Cointreau
Grapefruit Juice
Optional: Salt & Grapefruit Slice Garnish
Coconut Creamsicle Margaritas
Grand Marnier
Orange Juice
Silver Tequila
Lime Juice
Coconut Water
Canned Coconut Milk
Simply Syrup
Optional: Shredded Coconut & Orange Slice Garnish
Skinny Margaritas:
Strawberry Peach Margarita
Frozen Strawberries
Peaches
Tequila
Sparkling Water
Ice
Lime Sorbet Margarita
Lime
Sugar
Lime Sorbet
Tequila
Super Skinny Margarita
Sparkling Ice Lemon Lime Water
Tequila
Orange Juice
Fresh Lime Juice
Optional: Salt & Lime Garnish
Sunshine Margarita
Tequila
Cointreau
Fresh Orange Juice
Agave
Optional: Sugar & Orange Slice Garnish
MARTINIS:
Classic Honeydew Martini
Vodka
Triple Sec
Midori Melon Liqueur
Limoncello Martini
Vodka
Limoncello
Fresh Lemon Juice
Simple Syrup
Optional: Lemon Wedge and Sugar Rim for Garnish
Super Honeydew Melon Martini
Vodka
Honeydew Melon Puree
Midori
Fresh Lime Juice
Triple Sec
Champagne
Cucumber Martini
Vodka
Triple Sec
Simple Syrup
Cucumber Juice
Lime Juice
Disney Themed Martinis:
Glass Slipper
Blueberry Vodka
Whipped Cream Vodka
Cream
Evil Step Mother
Chocolate Vodka
Pomegranate Juice
Chocolate Liqueur
Sleep Cycle
Kinky
Hypnotiq
Sprite
Maleficent
Black Vodka
Grape Schnapps
Apple Pucker
Belle of the Ball
Crème de Banana
Chocolate Vodka
Milk
COCKTAILS:
Hula Dancer
Pineapple Vodka
Vanilla Rum
Lychee Puree
Lemon Juice
Pineapple Juice
Grenadine
Disney Themed Cocktails:
Burly and Brawny
Whiskey
Amaretto
Black Cherry Soda
Sirens of Song
Blue Curacao
Malibu
Spiced Rum
Sea Witch
Grape Pucker
Malibu
Squirt
Adult Cherry Limeade
Cherry Vodka
Triple Sec
Lime Juice
Grenadine
Hot Pink Barbie Drink (There's a kid's version, too!)
Malibu Rum
Vodka
Cranberry Juice
Orange Juice
Pineapple Juice
Optional: Lime Garnish
Mango, Coconut, and Orange Vodka Crush
Vodka
Mango Puree
Coconut Milk
Orange Juice
Water
Sugar
Optional: Pinch of Salt
Hawaiian Dream
Crème de Banana
Malibu Rum
Pineapple Juice
Adult Rootbeer Floats
Rootbeer
Vanilla Vodka
Vanilla Ice Cream
Vanilla, Pear, and Vodka
Pear Juice
Vodka
Vanilla Bean Seeds
Vanilla Sugar
Ice
[Learn how to mix drinks like a pro!]
SANGRIA/PUNCHES:
Moscato Strawberry Lemonade
Pink Moscato
Lemonade
Strawberry Vodka
Frozen Strawberry Slices
Lemon Slices
Fishbowl Punch
Vodka
Coconut Rum
Blue Curacao
Sweet & Sour Mix
Pineapple Juice
Lemon-Lime Soda
Nerds Candy
Swedish Fish Candies
Ice
Lemon Slices
Lime Slices
Orange Slices
Optional: Blue Food Coloring
Valentine Moscato Float
Moscato
Strawberry Soda Pop
Vanilla Ice Cream
Cranberry Moscato Punch
Moscato
Cranberry Juice
Orange Juice
Fresh Cranberries
Sliced Lemon
EXTRA! CHAMPAGNE:
Best Mimosa
Champagne
Orange Sherbet
Optional: Orange Juice & Orange Slice Garnish
TRADITIONAL/QUICK PICKS:
If you need a classic and quick go-to, read through this list of girly alcoholic drinks:
Amaretto Cherry Sour
Amaretto Liqueur
Sweet & Sour Mix
Sprite
Grenadine
Optional: Maraschino Cherry Garnish
Blue Hawaiian
White Rum
Pineapple Juice
Blue Curacao
Cream of Coconut
Mai Tai
White Rum
Dark Rum
Pineapple Juice
Orange Juice
Lime Juice
Grenadine
Cherry Cola
Cherry Coca-Cola
Rum
Grenadine
Sex on the Beach
Vodka
Peach Schnapps
Orange Juice
Cranberry Juice
Long Island Iced Tea
Vodka
Rum
Gin
Tequila
Triple Sec
Either: Sweet & Sour Mix, Lemon Juice, or Orange Juice
Coca-Cola
Optional: Lemon Wedge Garnish
Dirty Shirley
Vodka
Sprite
Grenadine
Lemon Drop Shot
Vodka
Lemon Juice
Limóncello (if you're lucky!)
Sugar Rim
Cosmopolitan Martini
Vodka
Cointreau
Fresh Lime Juice
Cranberry Juice
Optional: Orange or Lemon Peel Garnish
UV Blue Lemonade
UV Blue Raspberry
Lemonade
Bonus: Sprite
Fuzzy Naval
Peach Schnapps
Vodka
Orange Juice
Optional: Grenadine
Chocolate Martini
Godiva Chocolate Liqueur
Crème de Cacao
Vanilla Vodka
Half & Half
Chocolate Syrup on Glass Rim
 Is it 5:00 by you?


You're welcome, and cheers!
Update: You've got to try this delicious adult milkshake…seriously…again, you're welcome.