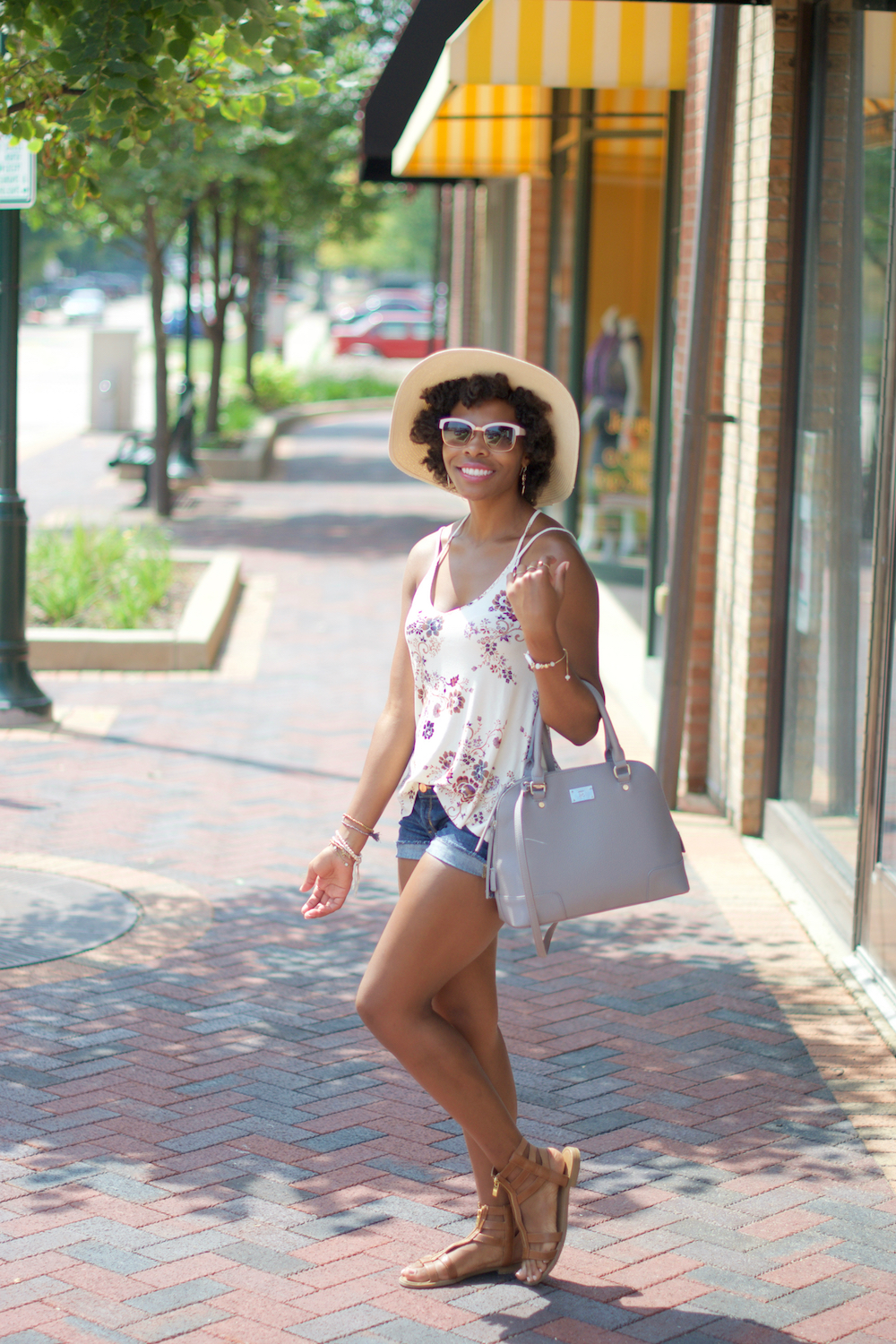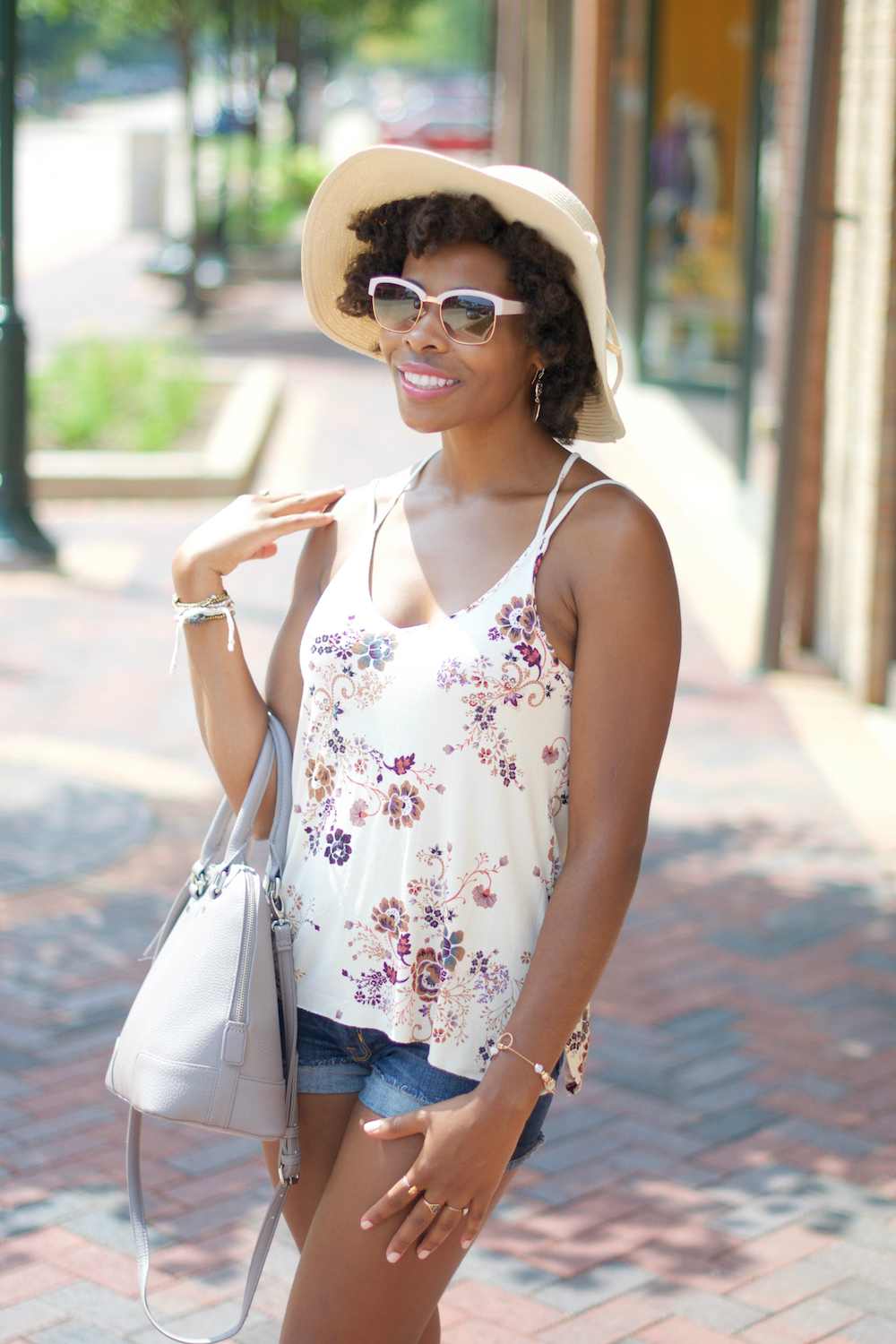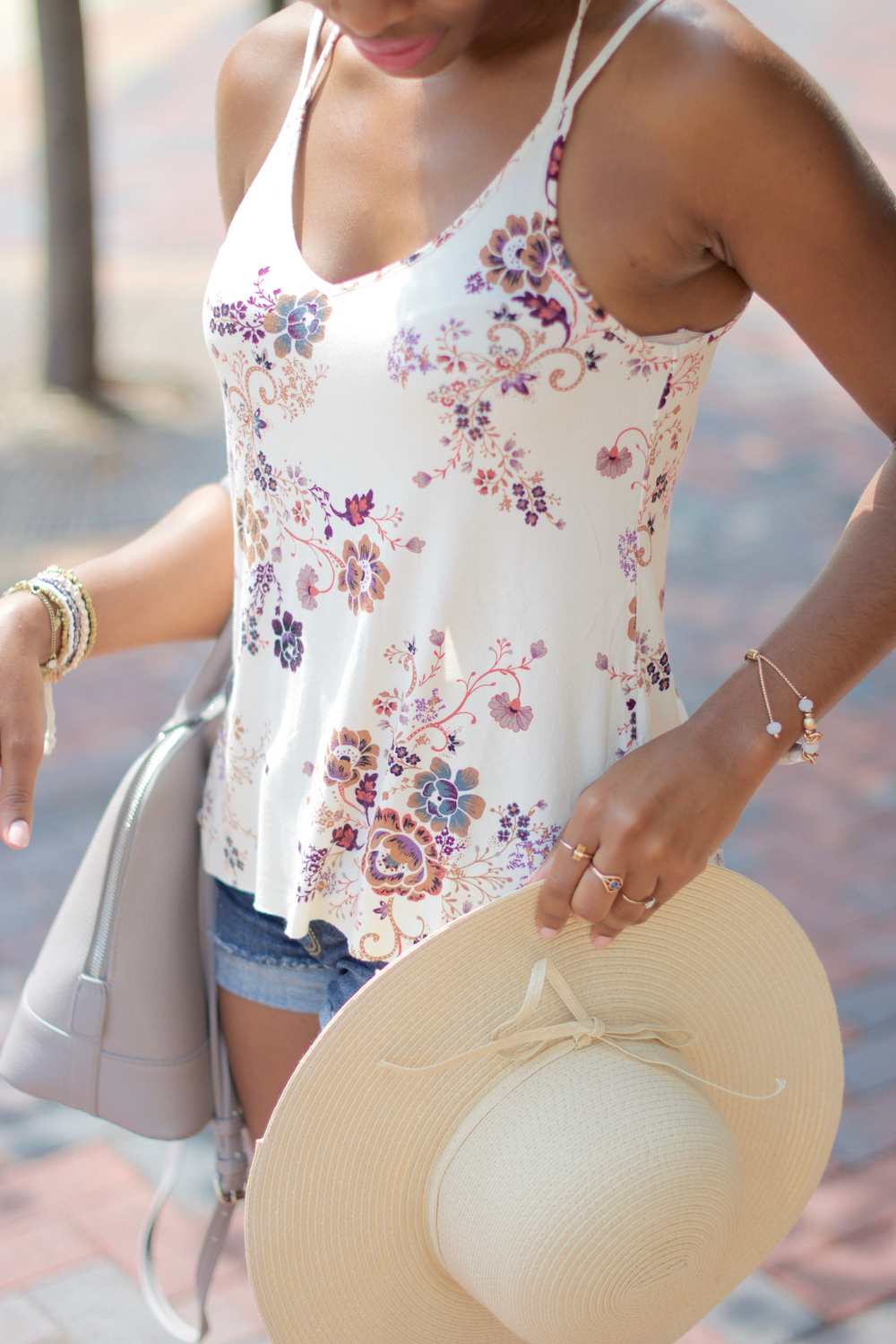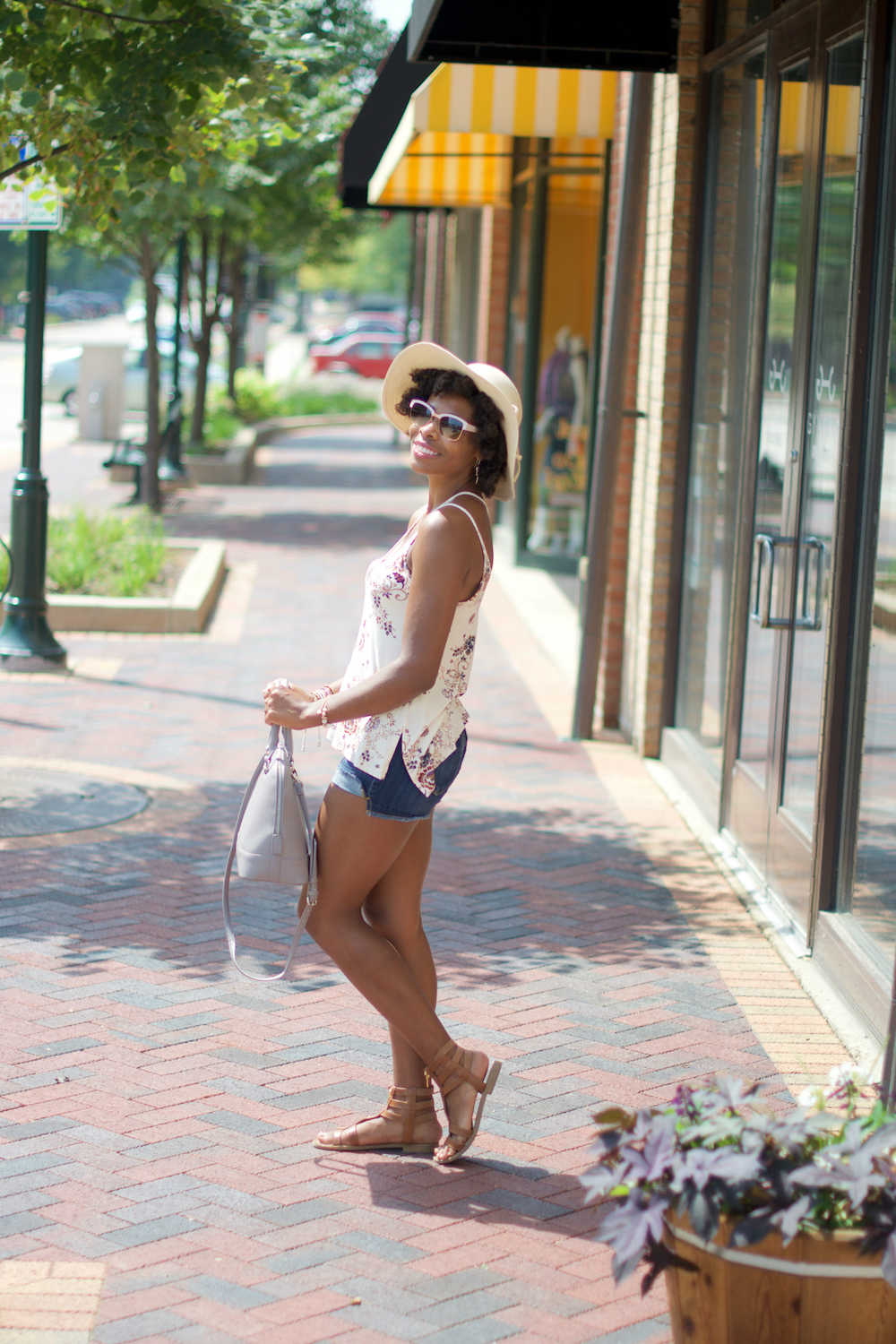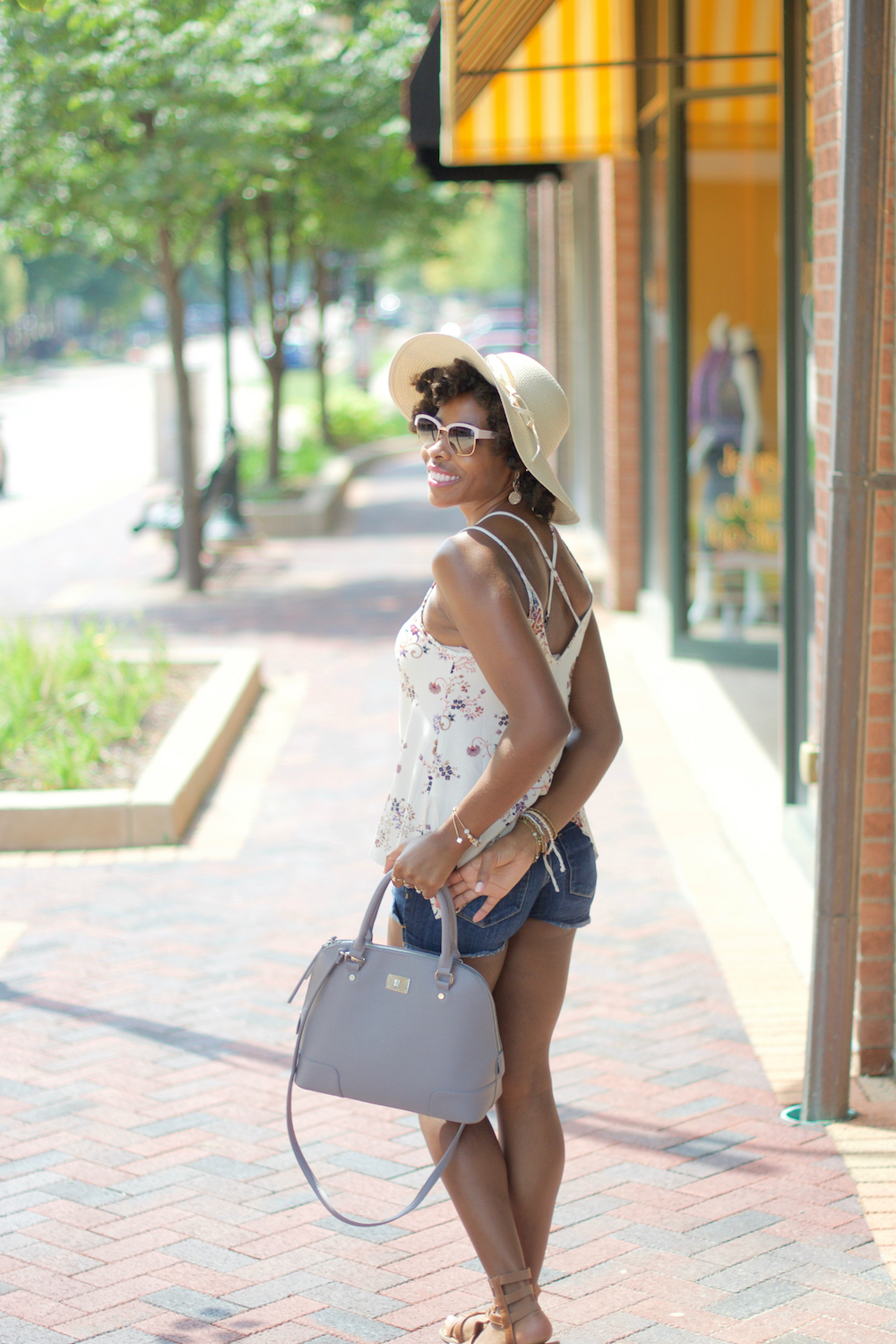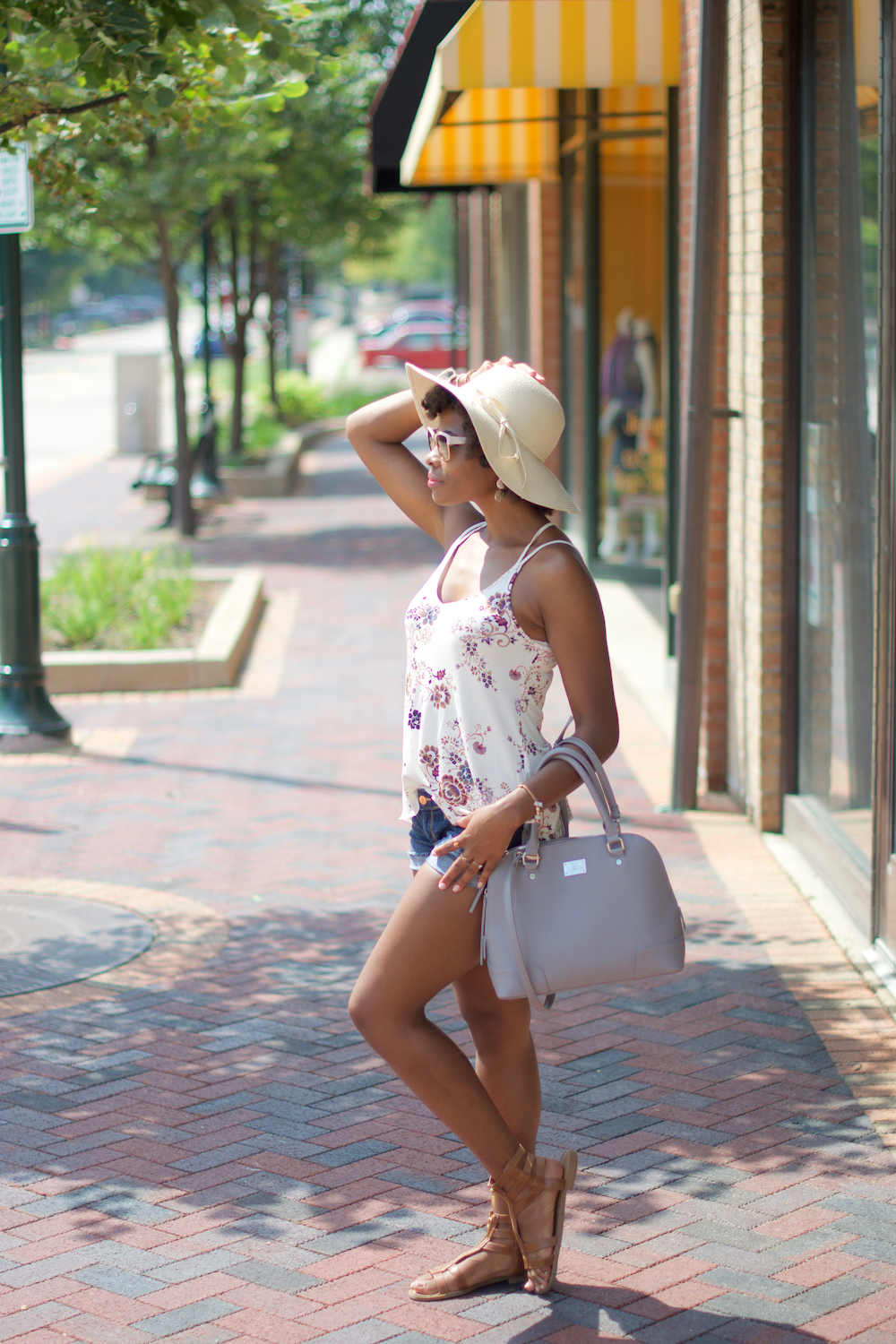 Cami
Denim Shorts (similar)
Sandals
Hat (now on sale for only $9!! — similar styles here & here)
Sunglasses (under $15!!)
Earrings (similar)
Lipstick – Revlon: "Sassy Mauve"
Nail Polish – OPI: "Bubble Bath"
Hello lovelies! How was your weekend? Mine was really, really good!
The Look
This strappy floral cami is the perfect tank to use when transitioning from summer to fall. It's light and flowy for hot summer days, but will be the perfect layering piece to wear when autumn comes around… so be prepared to see it again in a few months!
The Latest
In my previous post, I promised I would detail my thoughts about why America has a constant race issue. I am going to keep this as brief as possible and also straightforward…
One of the best ways to fix the issues in this country is to provide every child who attends public school with the same and equal education. I believe education should be handled not on a city level, but on a national level. The curriculum is already mandated at a national level, so why are tax dollars towards education still based on the city one lives in? I was lucky enough to be raised in an affluent suburb, St. Charles, but as with most wealthy communities, not too far away, there are school districts that are severely underfunded. You can't look me in the eye and tell me it's okay for "Wealthy William the 8 year old" to get a shiny new iPad and a computer lab with brand new iMacs when "Poor Patrick the 8 year old" attends a school with computers 10-15+ years old and no where near enough technology resources for every child in the school to regularly utilize. I understand the status levels associated with varying neighborhoods and cities… but that should have nothing to do with education. If every child attending public school was genuinely able to have an equal education, I think many of the stereotypes that stimulate and perpetuate racism would decrease and automatically minimize racism.
In addition, the American justice system needs a major reevaluation and many changes. The most important change is that punishment for crimes should be the same no matter the city, the county or the state. The whole "cruel and unusual punishment" concept, often considered during appeal sentencing, is not good enough. The only way everyone will be accountability for their wrongful actions is if similar crimes have similar, negative consequences. Just because someone is rich, they shouldn't be able to buy their way out of jail time. Just because someone is a police officer, their murders shouldn't be excused. Our court system is incredibly corrupt and flawed, and needs a major makeover!
The Life
Sooo… I had a really good weekend!
Friday- Spent the day hanging with my bestie Rachel. It's so nice being surrounded by someone who encourages proactivity and has such a positive spirit. I enjoy friendships with like-minded people who build me up, and my bestie Rach is just that way! At night, David scooped me up for a date night. We saw a friend play Lysander in a community theatre production of A Midsummer Night's Dream. After a dose of Shakespeare, we stopped at The Turf Room to enjoy an appetizer and some amazingly, fresh martinis. It was a great date night, and I'm really feeling some good feels towards Dave :)
Saturday- After hitting the gym doing some squats and a 2 mile run (Oh yeah, I've been running a lot lately. If you follow my Snapchat you know that I run just about every to every other day. I'd like to do the Hot Chocolate 5K this November, and I've met my running goal, so I'm ready!!) David and I took Alena to see Ghostbusters. Such a silly but funny movie! Definitely worth checking out for a laugh.
Sunday- David and I met up for a coffee. He was working on his engineer stuff (he is so intelligent! We've been dating for over 5 months and I hadn't fully grasped what he does all the time… well, yesterday he went over the work he does, essentially it's programming the functionality of machines, and I am so impressed with his knowledge and work!!) while I did some blogging. Dave also had some roommates move out recently and they pretty much took everything in the kitchen with them. He's getting new roomies at the start of August, but being the bachelor that he is, David was left without meal prep and cooking essentials. So we journeyed through Home Goods and Target for everything from silverware to pots and pans. After the trips to those stores, we went grocery shopping and I helped him pick out some healthier meal options so he can prep food and cook more at home. Apparently, the bachelor fridge is pretty normal–? Ha! Before our trip to the grocery store, Dave's fridge only contained condiments (ketchup and mustard) and beer. Check out the before and after of his fridge on my Snapchat, to add me search: PrettyPerfect89. So after so Sunday shopping, the BF was one happy and grateful guy… but it's returned, because I'm grateful to have such a sweetheart in my life. — Finally!
How was your weekend?
With Style & Love,
♥
Amber