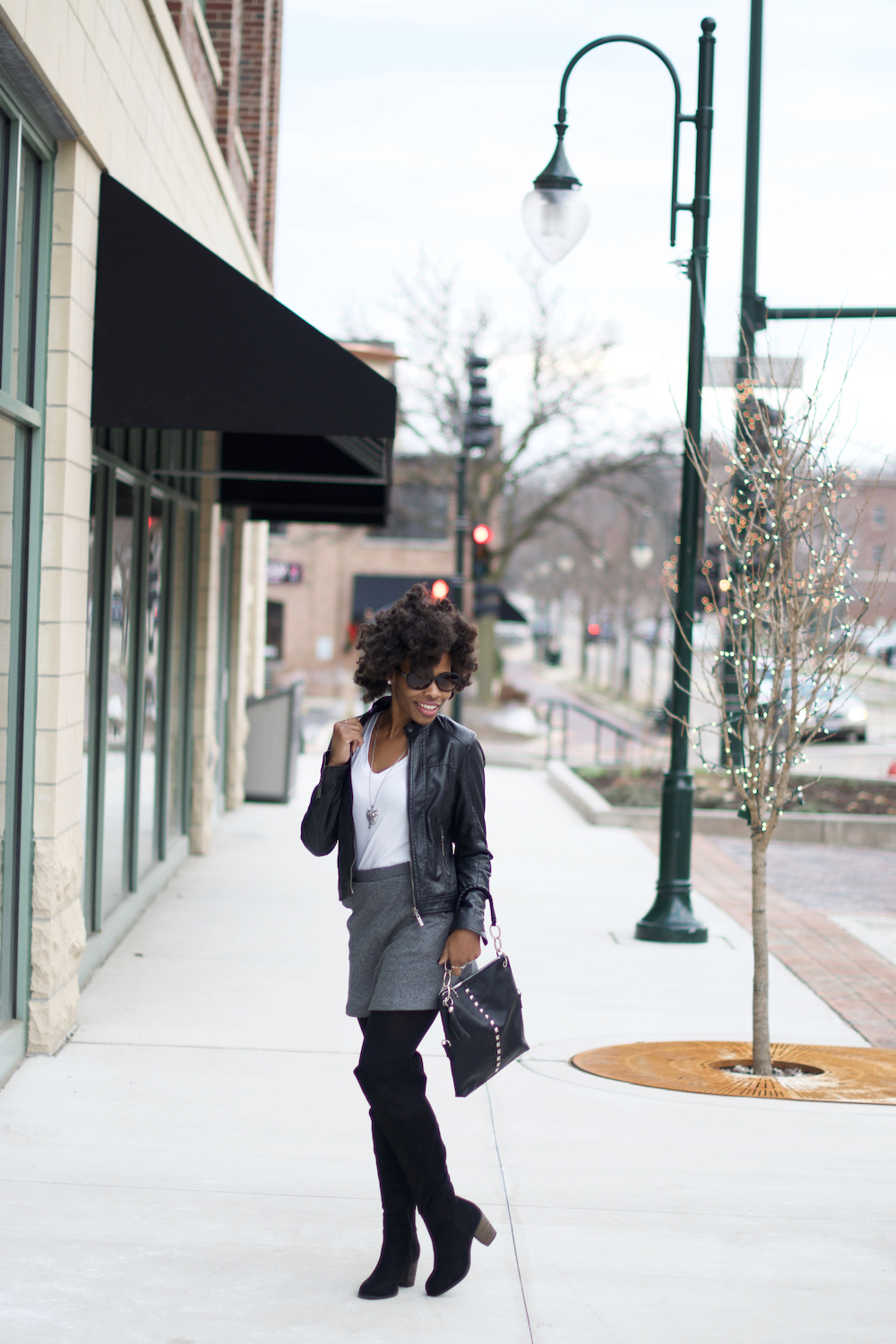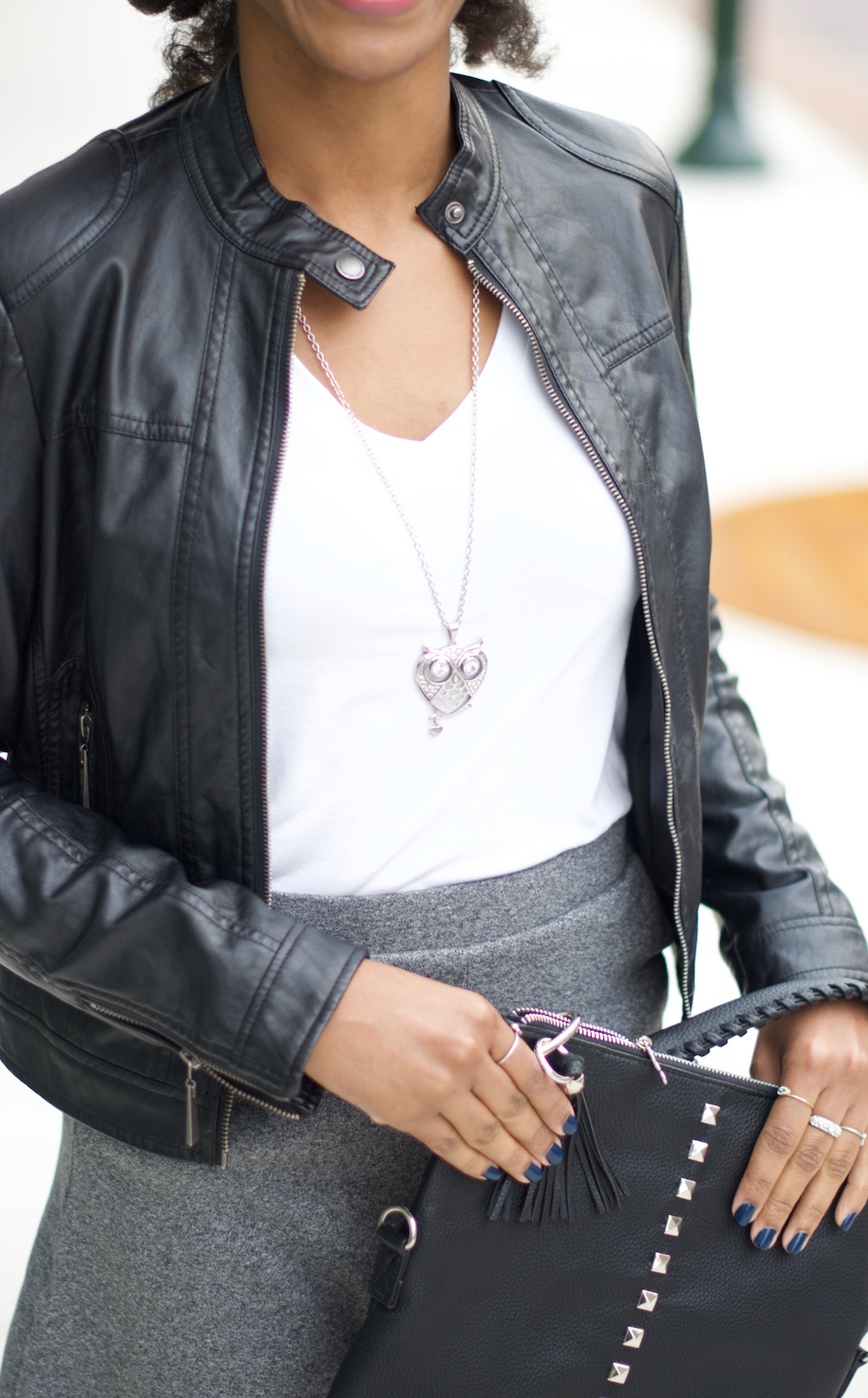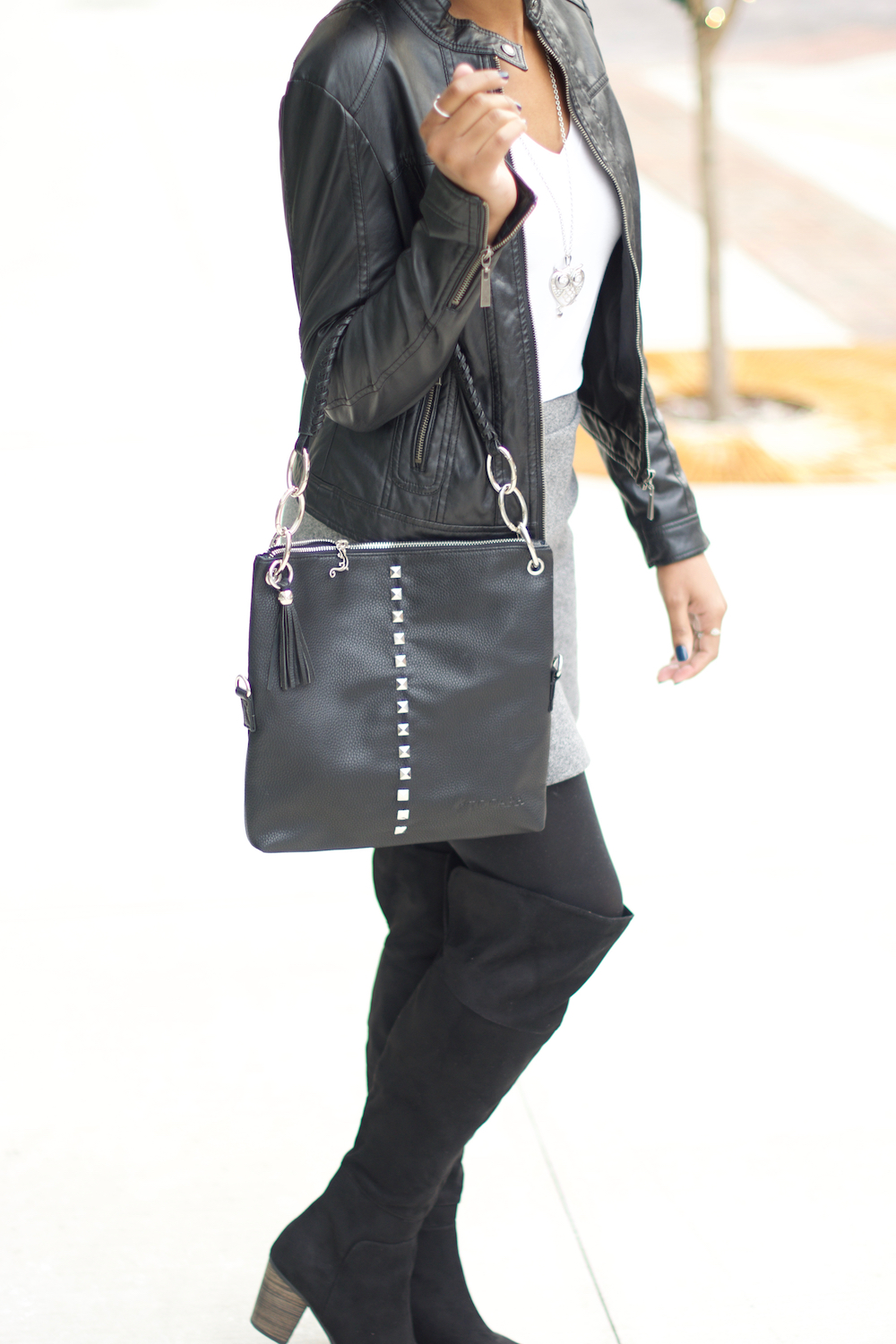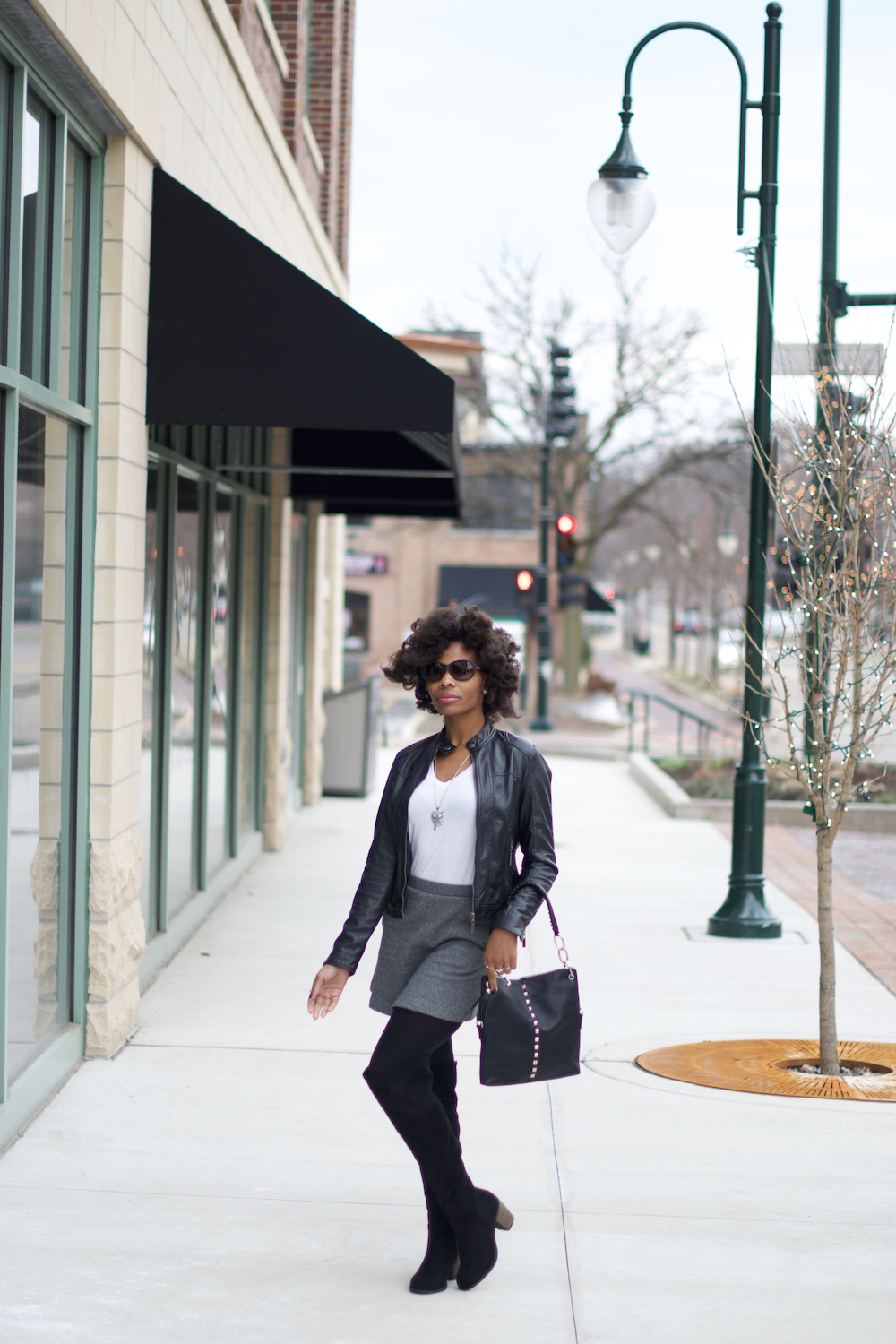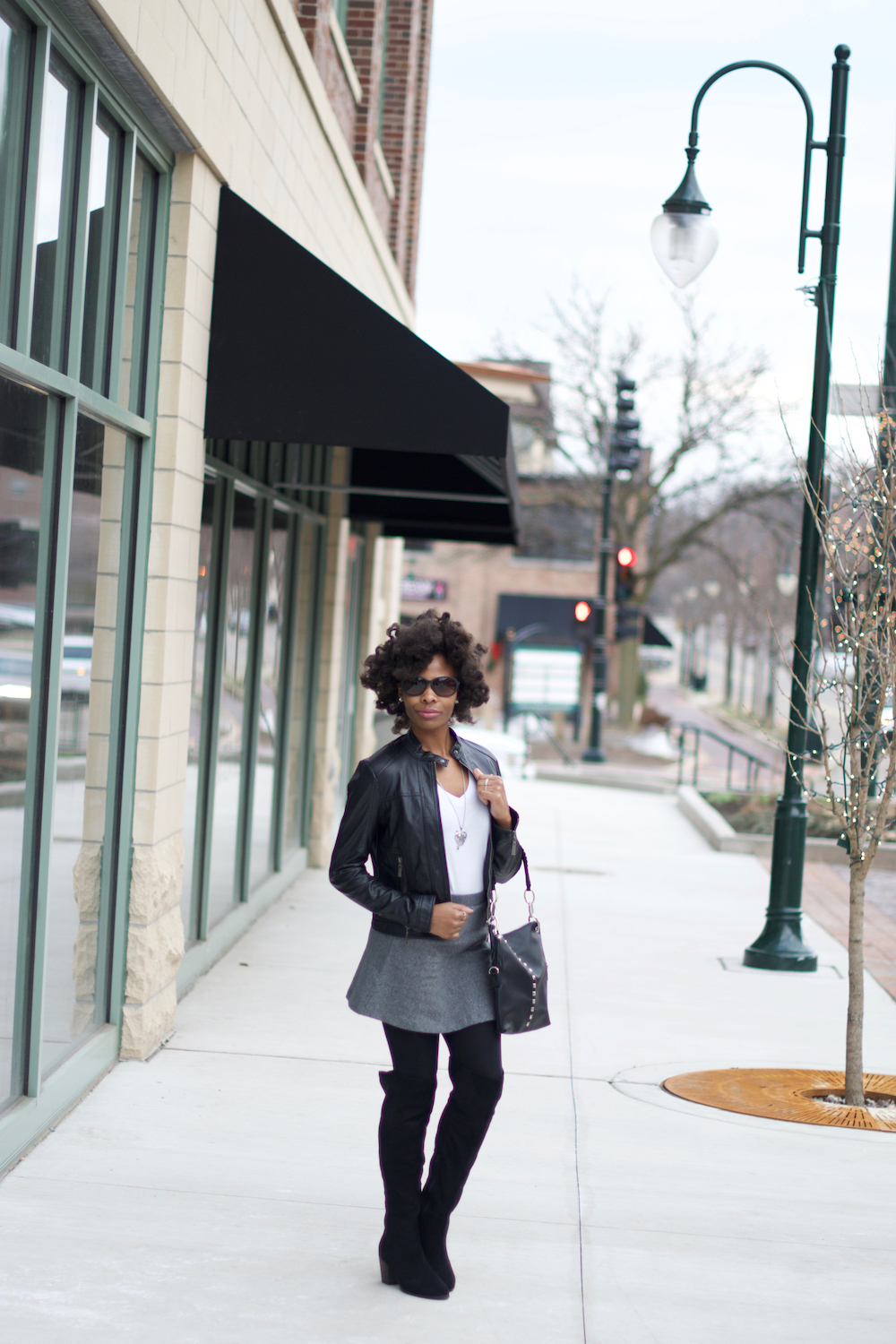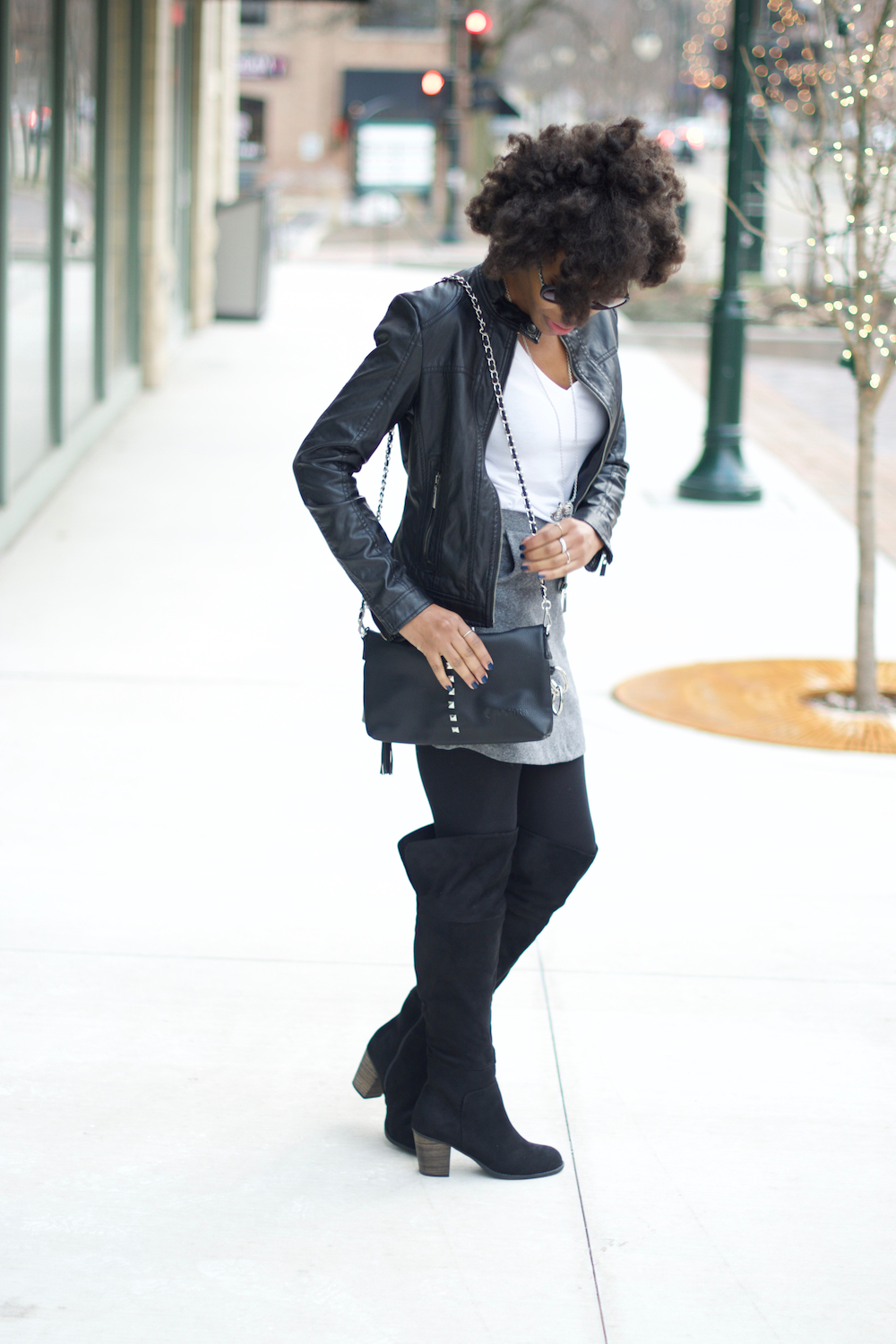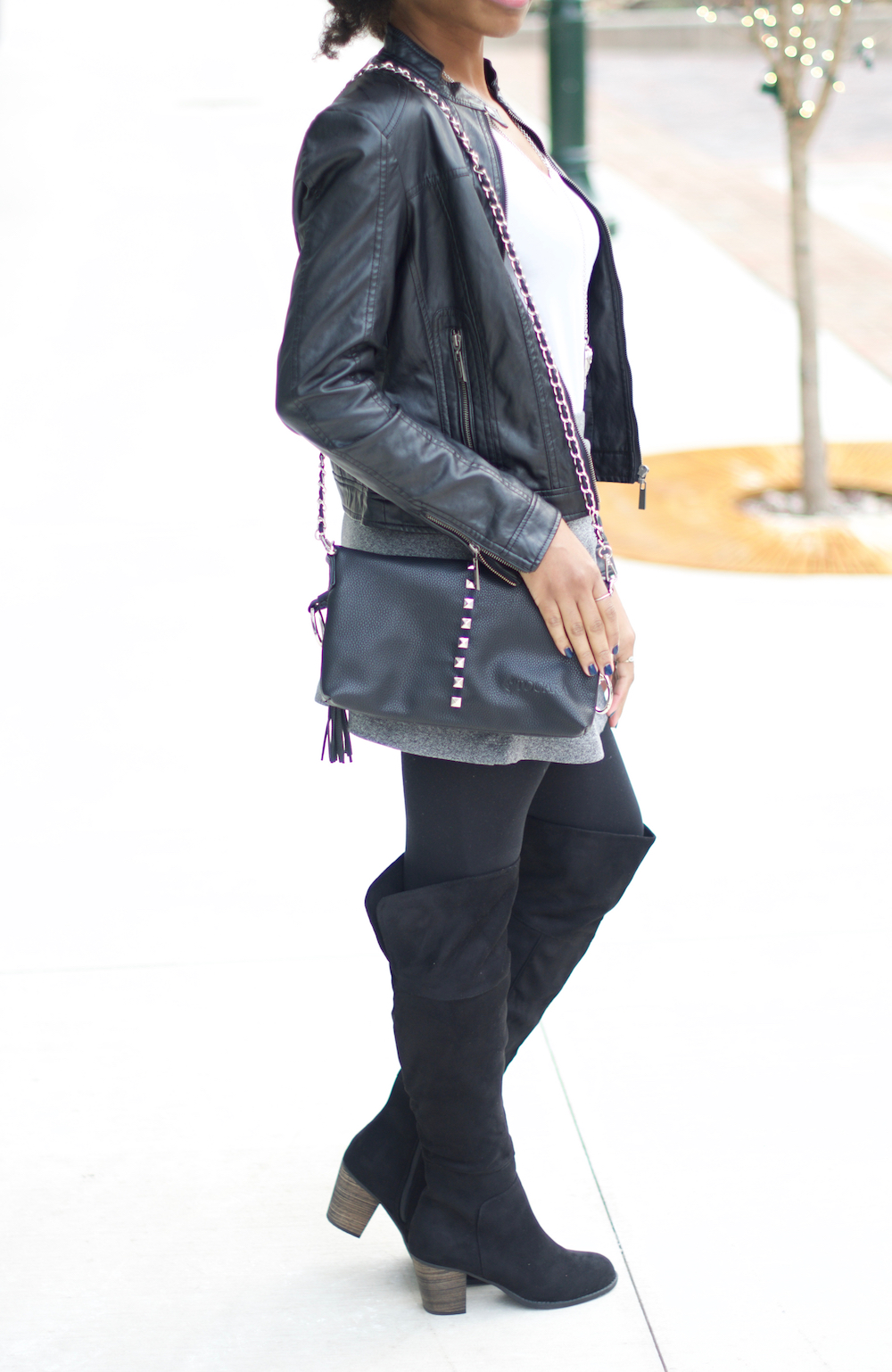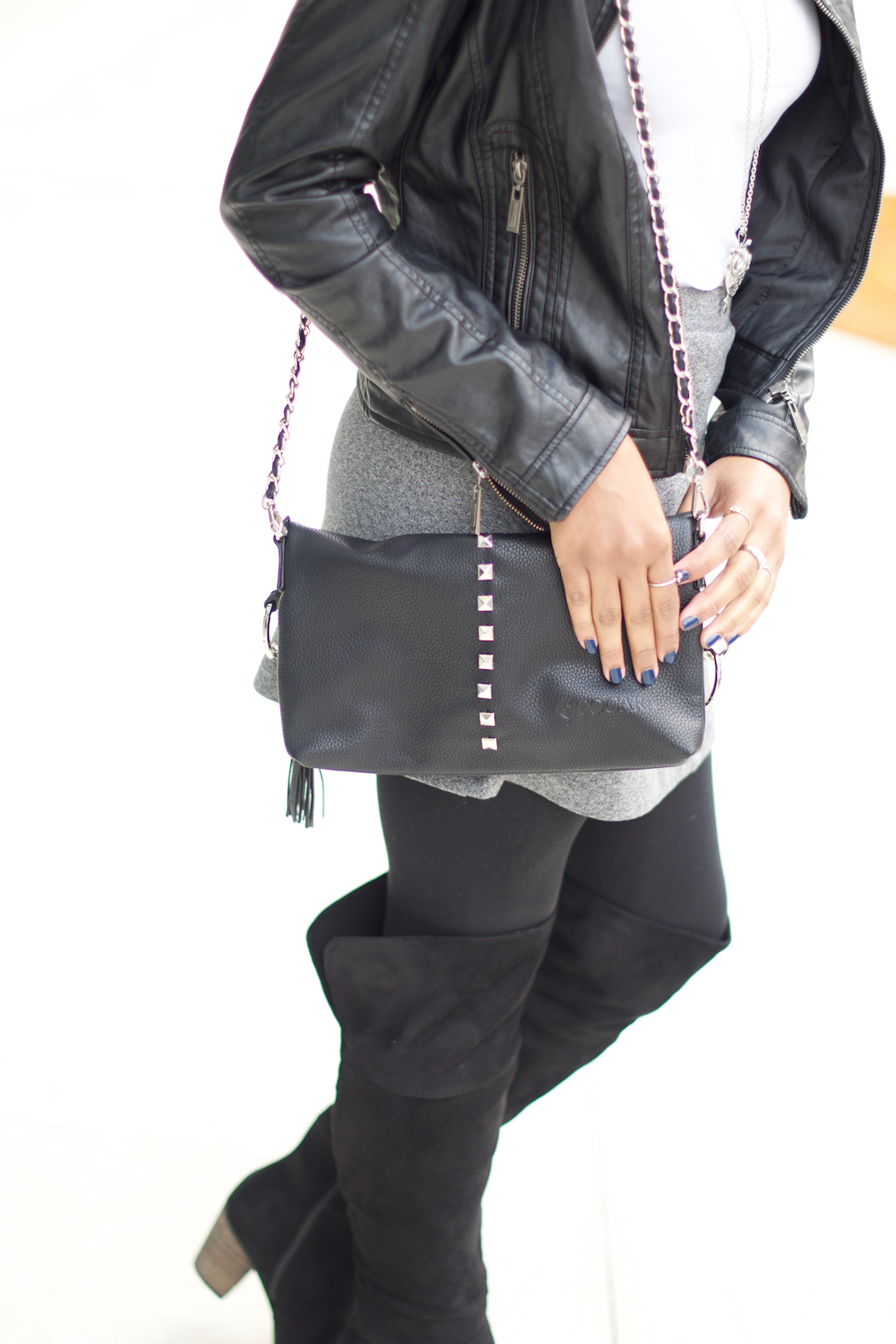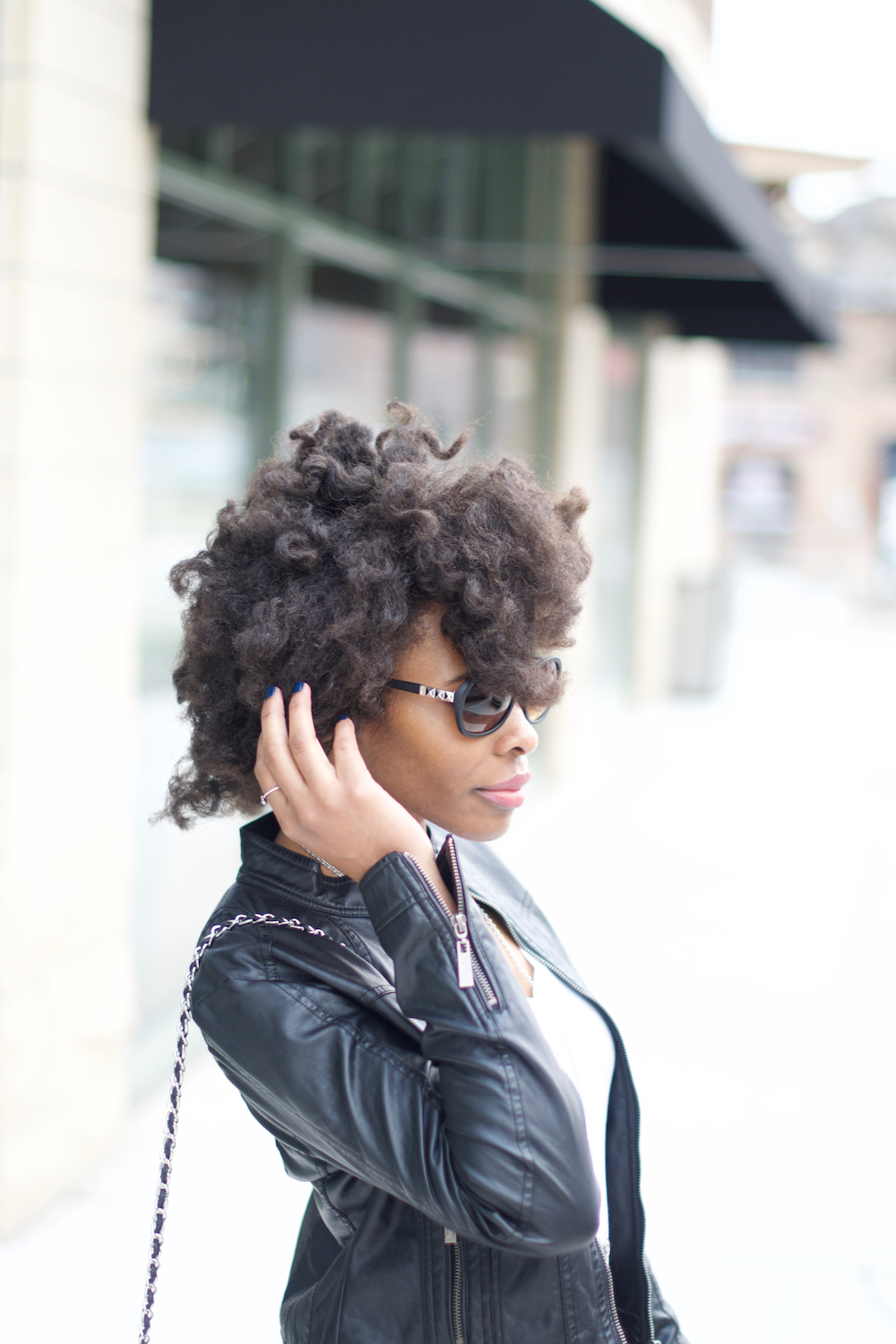 Sunglasses c/o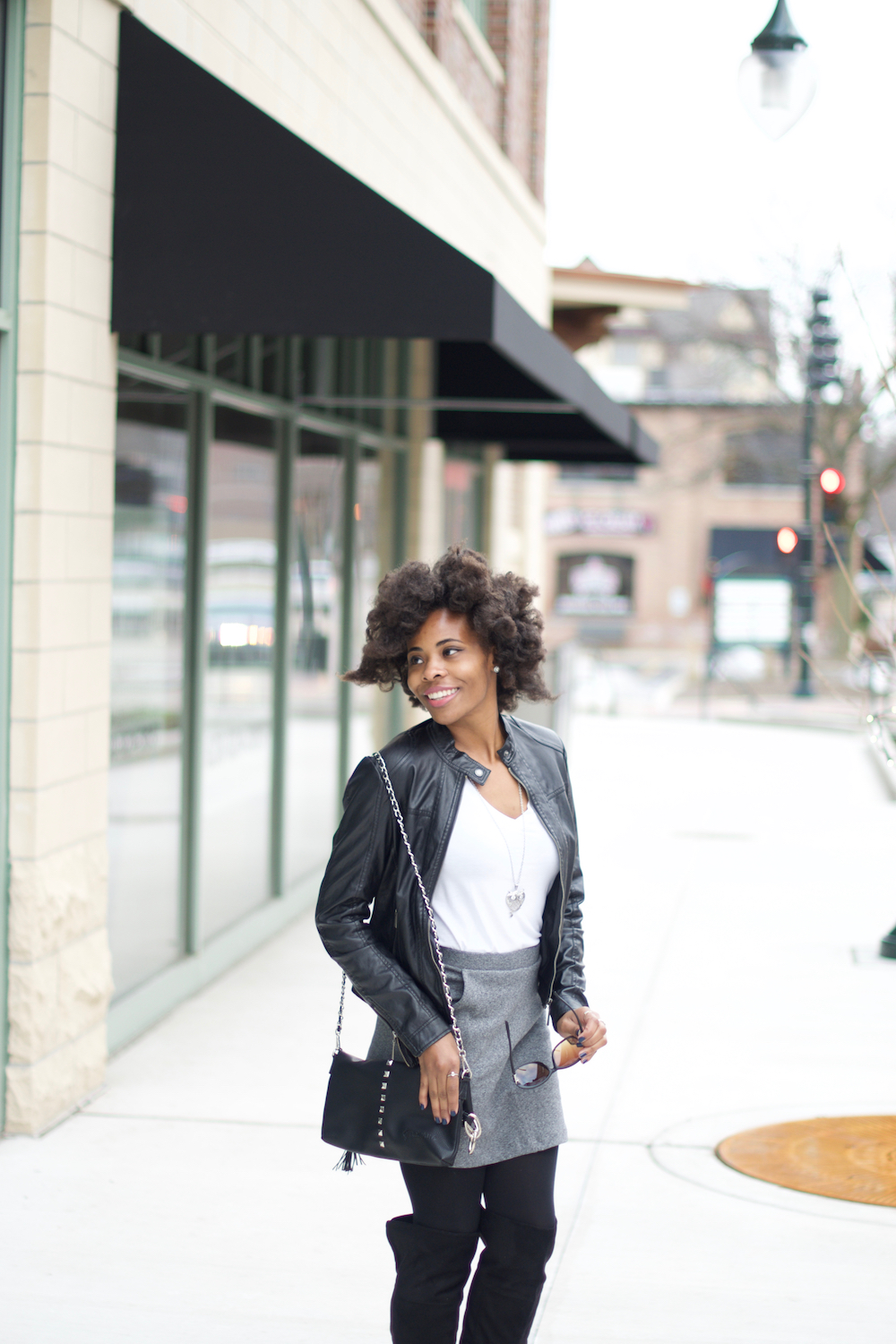 Sunglasses c/o
Purse c/o
Necklace c/o
Jacket
Tee
Skirt
Tights
Boots (similar)
Happy January, Lovelies! 2016 flew right on by… and overall, I had a great year. I met and have been dating a wonderful man (David). Alena turned 10 and is in her last year of elementary school. Over the summer, I was able to meet my favorite author. I even began my first year of teaching. So many big things happened in 2016, but those were some of the highlights. I don't really make New Year's resolutions, but I do check in with myself and set goals. I'll share my goals in an upcoming post.
In today's post, you can see that I am rocking some edgy, cool and timeless accessories. My sunglasses, handbag and necklace are all from Tocara. Tocara is a fine jewelry and accessories brand that was founded in 2008. Here's a 2-minute video of the latest and greatest from Tocara:
The pieces I'm rocking are from Lisa Mack, a consultant from Tocara. When Lisa approached me about featuring Tocara on All the Cute, after flipping through a few pages in the catalog, I was all in and mesmerized. The owl necklace I'm rocking is the Karina Necklace. My edgy and cool sunglasses are the Michelle Sunglasses. The awesome handbag I'm wearing is the Michelle Purse and as you can see, it's a very versatile piece. I am able to rock the purse many different ways. I can wear the Michelle Purse with a single shoulder strap, or using the shorter strap on my arm, and I can rock the bag as a tote bag, foldover bag or foldover clutch. This vegan bag is strong and sturdy and the material not only looks great, but feels as great as leather. The details on all of my pieces are darling and can mix up any style or outfit.
Tocara has fine jewelry to suit anyone's taste and their pieces are affordable and many are very versatile, just like my handbag! I mentioned that I was introduced to Tocara through Lisa. She lives local to where I am, but she can help you order Tocara products and get the best deals no matter where you live. Check out Lisa's shop page by visiting Tocara!
Right now, send an email to Lisa at itocara4you@gmail.com and she can give you $5.00 off of your first order! In addition to Lisa's deal, when you place your order, you will also receive one of the Karla Bracelets  (featured below) for free! If you spend $85.00 or more, you are entitled to all three Karla Bracelets for free! If you're in Illinois, Lisa can help you host a party featuring Tocara, but she can also help you host if you're out of state, just send her an email and she'll give you all the details needed to host a Tocara party and land even more savings and freebies!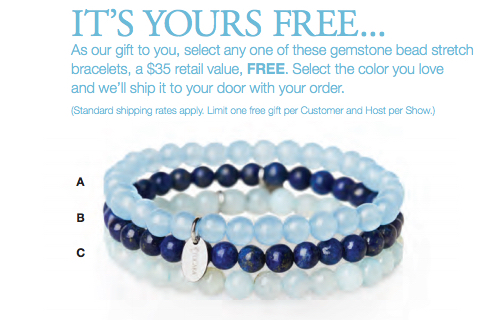 Happy shopping, and you're welcome!
With Style & Love,
♥
Amber
Thanks to Lisa from Tocara for sponsoring this post!